Report: Joe Mauer placed on trade waivers, Boston won't claim him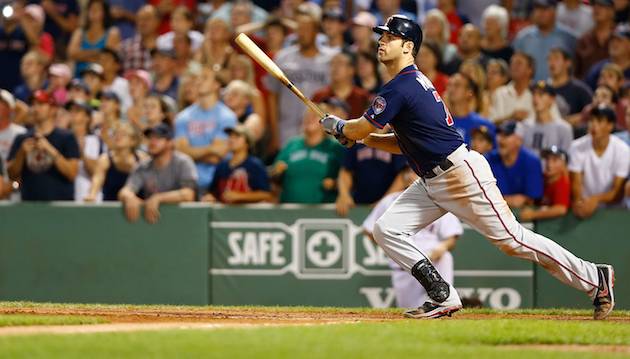 Joe Mauer earns $23 million every season through 2018. (Getty Images)
This time of year you hear a report about a player being placed on trade waivers and some fans get up in arms wondering what a team is doing and all that. I usually just ignore most of them, because most players are placed on trade waivers because it gives their team an option. So, to breathlessly report every player that goes on trade waivers (which are supposed to be secret) seems to be a little much to me.
However, as we saw with Adrian Gonzalez and Josh Beckett, it's not worthless.
So with that disclaimer, the Twins have put Joe Mauer on trade waivers, Ken Rosenthal of FoxSports.com reports.
Mauer, 29, has roughly $142.5 million left on his contract, which is a healthy bit of change. It would take a team with a lot of payroll flexibility to take on the Minnesota catcher. Know any team that may have cleared say, $260 million or so, recently?
CBSSports.com Insider Jon Heyman reports the Red Sox will not claim Mauer.
If you haven't noticed -- and it's possible because the Twins have been so bad -- Mauer is having another good season for the Twins, even if it appears he'll never put up the power numbers that he did in his MVP year of 2009. Mauer's hitting .309/.403/.425 with eight home runs this season and if he went to Boston, he could serve in the Victor Martinez role as a DH, first baseman and sometimes catcher.
Mauer, who will earn $23 million annually through the 2018 season, has full no-trade protection, so even if he his claimed, he'd have to OK the deal.
Heyman reported Tuesday that Mauer's teammate, Justin Morneau, was claimed on waivers, but the Twins couldn't work out a deal, so he was pulled off of waivers.
In the end, it's highly unlikely, but not impossible, that Mauer is anything but a Twin the rest of this year and next year -- still, it does make an interesting hypothetical for discussion purposes.
For more baseball news, rumors and analysis, follow @EyeOnBaseball on Twitter, subscribe to the RSS feed and "like" us on Facebook.