Heath Bell isn't happy with Ozzie Guillen, either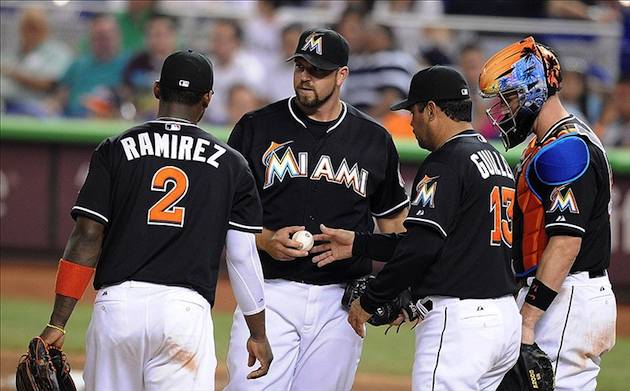 Heath Bell isn't happy with Ozzie Guillen. (US Presswire)
If Marlins manager Ozzie Guillen is looking for his players to have his back in the midst of his current dust-up with owner Jeffrey Loria, he may not want to look in Heath Bell's direction. The first-year Marlin, who was relieved of his closing duties earlier this season, told a Miami radio station on Monday that he doesn't respect his manager.
"It's hard to respect a guy that doesn't tell you the truth or doesn't tell you face-to-face," Bell told The Dan Sileo Show on 560 WQAM in Miami (via ESPN.com). "There's probably reasons why."
Yet, in the same interview, Bell, who didn't mention Guillen by name said, "I'm not going to be two-faced. I'm not going to sneak around your back and say this and that." And then he continued to say this and that.
"We need a guy that leads us that everybody respects and looks up to," Bell said. "That's what we need."
Which, apparently isn't what they have, at least according to Bell.
Bell, who signed a three-year, $27-million deal this past offseason, has a 5.19 ERA and converted 19 of 26 save opportunities. Bell, apparently, is unhappy that Guillen hasn't given him a chance to close again.
"I stunk in April, plain and simple," Bell said. "I said I stunk, I worked hard, I busted my butt. I think I've had a tremendous second half. I'm not closing -- I know that. But I just keep my mouth shut because I want to regain what I had, and I feel like I can't do that."
Tremendous, by Bell's standards, is apparently a 3.12 ERA and 1.231 WHIP, with 25 strikeouts in 26 innings. He's allowed nine runs in 29 outings. The biggest thing he's done since the All-Star break is drop his walk rate from 20 walks in 34 2/3 innings to seven in 26 innings in the second half. He's allowed just one run in 10 appearances over nine innings this month, striking out 11 and walking just one.
Steve Cishek, 26, has replaced Bell as the team's closer. After a 2.17 ERA in the first half, Cishek has a 4.03 ERA in the second half, including a 9.95 ERA this month.
For more baseball news, rumors and analysis, follow @EyeOnBaseball on Twitter, subscribe to the RSS feed and "like" us on Facebook.