Report: Miami Heat, Ray Allen share 'mutual interest' in free agency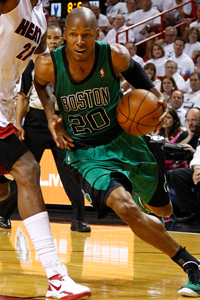 Could Ray Allen be in a Heat uniform next season?
(Getty Images)
This would take "If you can't beat em', join 'em" to a new level.
ESPN.com reports that the Miami Heat and unrestricted free agent guard Ray Allen, who spent the last five years with the rival Boston Celtics, could have eyes for each other as the July free agency period sneaks up next week. The Heat, of course, eliminated the Celtics in seven games in the Eastern Conference Finals earlier this month.
According to multiple league sources, there is mutual interest between Allen and the Heat. The most the Heat can offer is a contract starting at $3 million per year, which is known as the taxpayer's midlevel. Allen could get more money elsewhere, but the Heat offer an attractive portfolio that goes deeper than cash.
Allen, 36, is a future Hall of Famer and remains one of the NBA's best shooters. Slowed down the stretch of the 2011-12 season by an ankle injury that required surgery, Allen still averaged 14.2 points, 3.1 rebounds, 2.4 assists and 1.1 assists per game while shooting 45.8 percent from the field and 45.3 percent from deep in 34 minutes per game. That's big-time production, and Allen's methodical, obsessive approach to staying in shape means that he likely has three (or more) seasons left in his tank if he wants to keep playing.
It's an interesting idea for both parties. Allen would get a ready-made championship contender to help add to his lengthy list of accomplishments. He would likely have the opportunity to play less minutes and draw easier defensive assignments than what was required in Boston thanks to the presence of Dwyane Wade and LeBron James. He would be perfectly positioned to focus on knocking down the three ball without any distractions.
For Miami, Allen's presence would open up the court even more for the Big 3. He would be an upgrade over the Mike Miller/James Jones pair and could be used in the sort of lethal smallball lineups the Heat favored down the stretch in the playoffs. He's poised, experienced, tough, smart and classy, a perfect fit on a team ready to win and win and win.
The tricky part is selling Allen on the idea of settling for the mini mid-level exception. While he's earned an astonishing $178 million during his NBA career, his market value is well above $3 million, and he earned $10 million in 2011-12. That's a steep haircut for a guy whose statistics haven't fallen off a cliff.