Kevin Durant, Derrick Rose, and Blake Griffin to appear on NBA 2k13 cover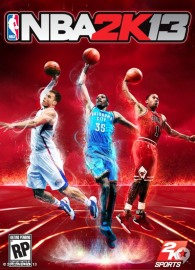 Video game developer 2kSports announced Tuesday that their cover athletes for NBA2k13 to be released this fall will be Kevin Durant, Derrick Rose, and Blake Griffin. The move represents a shift to the future for the franchise which most recently featured the GOAT, Michael Jordan on the cover. From the presser:
"Being crowned as one of the NBA 2K13 cover athletes is a huge honor and something I always dreamt about," said Durant, who won his third straight scoring title and led the Thunder franchise to their first NBA Finals appearance since 1996. "It's definitely humbling to grace the cover after the likes of Michael Jordan, Magic Johnson, and Larry Bird."

"There's so much young talent around the NBA, so it's very exciting to be chosen for NBA 2K's 'New Dynasty' alongside Kevin and Derrick," added Griffin, who helped lead the Clippers to their first postseason since 2006. "The NBA 2K series has always been my first choice when I want to get a game in."

"It's a dream come true to be one of the cover athletes for NBA 2K13," commented Rose, the 2010-11 NBA Most Valuable Player, who led the Bulls to a league-best 50-16 record this season. "I've worked closely with 2K Sports since NBA 2K10, and I'm honored to follow in the footsteps of Michael Jordan as the latest Chicago Bull to be featured on the cover."

In their young but impressive careers, Rose, Durant and Griffin have each taken the NBA by storm. All three are past winners of the NBA Rookie of the Year award, and have also amassed eight All-Star berths, three scoring titles, and one Most Valuable Player award between them.

"There are many young superstars in today's NBA, but we've selected three incredible athletes for the cover of NBA 2K13 that represent the NBA well," concluded Jason Argent, vice president of marketing for 2K Sports. "It's clear to us that Blake, Derrick and Kevin are the most deserving guys to inherit the NBA 2K cover from Jordan, Magic and Bird."
It's a smart move from 2kSports to go with the younger players. No only is the endorsement money likely smaller, but it represents keeping them on the edge of the future with the younger players.
It's a big step up for Durant, in particular, who hasn't been on a ton of commercial opportunities outside of the famed "Doodle Jump' spot. Griffin has Kia and Subway, Rose has Adidas. It's a step forward for all of their images, and a solid statement of connection by 2kSports with the next generation of stars instead of opting for the big money with say, LeBron James.