SI: NBA personnel still list Heat as favorite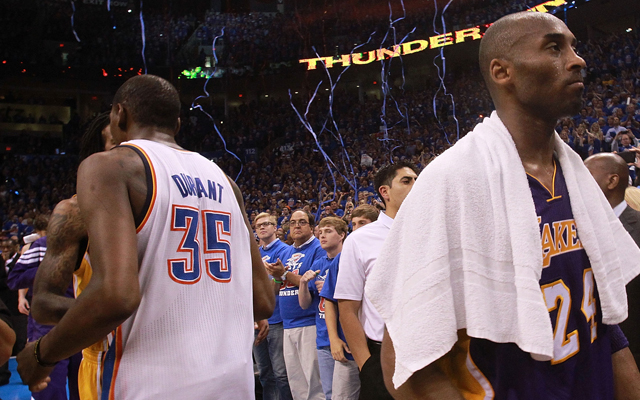 Are the Lakers and Thunder headed in opposite directions?
(Getty Images)
The Heat are a year older, the Lakers have Dwight Howard and Steve Nash, the Thunder will be a year better and the Celtics have upgraded their bench while retaining Kevin Garnett. And yet, according to an informal poll from SI.com, the Heat remain the favorites for the title:
According to a group of basketball minds (including 10 general managers) who were asked to pick their favorites for the 2013 championship, the Celtics and every other team not named the Heat, Lakers or Thunder are second-class citizens in the league's changed landscape.

The final tally, with three of the voters submitting only first-place votes: The defending champions in Miami received 15 first-place votes, one second-place vote and two third-place votes; their Finals foe, Oklahoma City, garnered two first-place votes, six second-place votes and eight third-place votes; and the Lakers, who have added Dwight Howard and Steve Nash to Kobe Bryant and Pau Gasol, got two first-place votes, nine second-place votes and six third-place votes. The Lakers may not be seen as the favorites to win it all, but the idea that they're the top threat to the Heat is not only a topic of much discussion in the media but also clearly a very real sentiment in NBA circles.
via Heat beat Thunder, Lakers in poll about 2013 NBA title winner - Sam Amick - SI.com.
When the Lakers first landed Howard, there was excitement, but also a move to consider how good Oklahoma City still is, and how they match up with the new-look L.A. after bouncing them in five games last year. But the more you look at the Lakers' roster, and how good it looks, the more the feeling is established that the Lakers may have leap-frogged the Thunder. This poll is a reflection of that.
It doesn't mean anything, of course. "They still have to play the games" and all that. But that goes both way. Oklahoma City isn't guaranteed to have the same success, nor the injury luck they've managed over the past two years. Things could just as easily go wrong for OKC as they could for the Lakers, or Miami. Basketball and its chemistry is a tenuous, delicate thing.
But with Dwyane Wade another year older, coming off of surgery, with Chris Bosh coming off of recovery from his injury, with Ray Allen and Shane Battier another year older, the Heat have a number of question marks in their own right. Their ability to stay on top is a testament to LeBron James and how dominant he was the final seven games of the playoffs. It's good to be the King, apparently.