EOB presents the NBA Elite 100: No.5 through No.1
Last year we ranked the Elite 100 players in the NBA. Our crew of three, which watches every team on a regular basis throughout the season, evaluated the players using all the criteria we could -- past performance, recent production, injuries, projected improvement, character isssues, decision-making, basketball IQ, advanced metrics, team fit -- everything.
The rankings are prepared by the three bloggers for Eye on Basketball: Royce Young, Ben Golliver and Matt Moore. The rankings are averaged and listed here in random order. Last year's rankings are in parentheses.
Earlier, we unveiled No. 100 through No. 50 and then No. 49 through No. 40, No. 39 through No. 30, No. 29 through No. 20, No. 19 through No. 11, and No.10 through No.6. Check out the guys who fell out of the top 100 between 2011 and 2012 here. The following is No.5 through No.1.
5. Kobe Bryant, SG, Age 34, Los Angeles Lakers (2011 ranking: 6)
2012 Stats: 27.9 ppg, 4.6 apg, 5.4 rpg, .463 eFG, 21.9 PER
Rankings: 6, 5, 6

Welcome back to the top five, Mamba. Bryant is as divisive a figure as ever, and his spot in these rankings is no different. Bryant's efficiency went down as his scoring average went up in 2012, as he posted the lowest effective field goal percentage of his career. He wound up taking the majority of the offensive possessions for the Lakers last season. So the eternal questions returns: Was the Lakers' offensive efficiency the result of Bryant absorbing too many possessions or was Bryant's inefficiency a result of the weakness of the Lakers' offense?

That's a question that factors here, but is also moot going forward. With Steve Nash and Dwight Howard on board, Bryant will not be short on supporting talent.

At times in 2012, Bryant was the lethal, dominant player with the singular offensive talent, shaking and whipping his opponents' defense with a barrage of moves. At times, his trigger finger was far too active and his most prolific performances, including a streak of 40-plus-points games were largely not his best games. But he remains perhaps the most dangerous offensive player in the league, and the one player feared the most by all others.


4. Dwight Howard, C, Age 26, Los Angeles Lakers (2011 rank: 2)
2012 Stats: 20.6 ppg, 14.5 rpg, 2.1 bpg, .573 eFG%, 24.2 PER
Rankings: 6, 5, 3

So... not a great year for Dwight.

He dealt with back surgery which kept him out for half the year, he was pinned on having his coach fired, and those weren't the worst things to happen to him, on account of his own actions. And the impact of all the nonsense during the Dwightmare did affect his play last season.

His defensive rotations weren't quite as keen as they usually are. His effort didn't seem as dominant as it usually does. And his heart clearly was affected by all the off-court turmoil.

And yet, Howard remains without question the best center in the league. For all the talk of Andrew Bynum's arrival, Howard's superior defense and ability to work in the pick and roll put him in a superior class. With the Lakers, he's finally surrounded by the kind of teammates that modern stars dream about: ones who will enable him to hid his weaknesses while showing off his strengths. Howard has a good chance of climbing back to the No.2 spot, or higher, next season.

For now, though, we'll just be thankful we don't have to talk quite so much about him.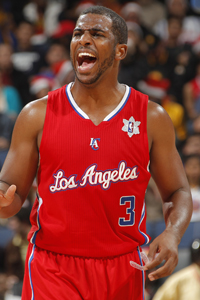 Paul is considered the best point guard by many.
(Getty Images)
3. Chris Paul, PG, Age 27, Los Angeles Clippers (2011 rank: 8)
2012 Stats: 19.8 pppg, 9.1 apg, 2.5 spg, .522 eFG%, 27.0 PER
Rankings: 4, 3, 4

In the constant debate about the greatest point guard on Earth (or "Point God"), Paul remains notoriously ahead of the pack on most people's ballots. It's his control and his efficiency, it's his shot-making ability and his speed. It's how he can hit the big shot, find the open man, make the right play, and turn the ball over at such a low clip.

Paul's scoring went up with Los Angeles last year, but his assists went down, while his shooting percentage came in at just the fourth best of his career. Paul often gets points for his ability to "turn it on" in te biggest games and his management of his body has been the subject of much discussion over the past two seasons as he rests his knees for the postseason. But if Paul's slip is excused on account of his playoff superiority and big-game step-ups, why does Deron Williams not receive the same treatment?

I bring this up not to kock Paul off his No.3 pedastal, but instead to reinforce the fact that even despite these issues, this is how good Paul is, at his core. When he's dialed in, there is not a better floor general, and his infectious intensity turned the Clippers from an unsure amalgam of wings and forwards into a dangerous second-round team.

And yet we have to ask the question, is this team better than the 2008 Hornets team which produced Paul's biggest year and put him on the main stage? And given how Dell Demps and Monty Williams have rebuilt the team in New Orleans... would he have been better off there?

The Clippers have a year to show that's not the case. In related news, Paul remains headed for unrestricted free agency in the summer of 2013.


2. Kevin Durant, SF, Age 23, Oklahoma City Thunder (2011 ranking: 7)
2012 Stats: 28.0 ppg, 8.0 rpg, 3.5 apg, 1.2 bpg, .547 eFG%, 26.2 PER
Rankings: 2, 2, 2

It was a season of arrival for Kevin Durant. Another scoring title, sure, but the Thnder made themselves into full title contenders for the first time, and Durant was as big a part of that as anything. His efficiency was dazzling, considering that he's primarily a jumpshooter, and his leadership took a huge step forward. He was a smarter, older player, no longer the kid, but the second most dangerous weapon in the NBA, and if there were such an award, the NBA Offensive Player of the Year.

But defensively, he made huge strides as well. His isolation defense took a bound forward and his length is no longer just something to contain the damage, but a weapon he can use with better fundamentals to corral his opponent off the dribble. He was tougher in the post and stronger against the drive.

Durant has become a force only topped by our No.1 player (you know who), and he's just 23 years of age, 24 when the season begins. He's just getting started and he's already accomplished so much. To say the sky's the ceiling gives the sky too much credit for its altitude.

He's no longer on his way. Kevin Durant has arrived. The only question is whether he can become great enough to claim this time as his own.

No.1 LeBron James, SF(/PG/SG/PF/C), Age 27, Miami Heat (2011 Ranking: 1)
2012 Stats: 27.1 ppg, 7.9 rpg, 6.2 apg, 1.9 spg, .554 eFG%, 30.7 PER
Rankings: 1, 1, 1

Hail to the King, baby.

It was "The Season" for LeBron James. Everything that's ever been asked of James throughout his much-hyped and much-criticized career came to fruition. Play more in the post? Dominated. Step up in an elimination game on the road and carry his team? Check. Be the alpha dog and the guy to step up in the fourth? Done.

Win an NBA Championship? Got it.

James was the best player in the league in 2011. He was the best player in the league in 2010. He was the best player in the league in 2009, and 2008, and so far back it's hard to remember the last time he wasn't. There were rampant criticisms of our rankings for putting him No.1 as there were criticisms of other ranking that placed him just as high. Then James went down and validated it, and this year's top spot.

He's the NBA Champion, the reigning MVP, the reigning Finals MVP, and the best player on the face of the Earth.

It's good to be the King.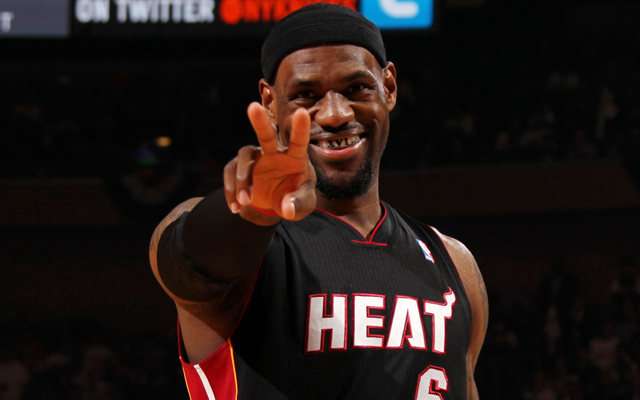 LeBron James goes for the second ring in 2013.
(Getty Images)