The Great NBA Moments of 2012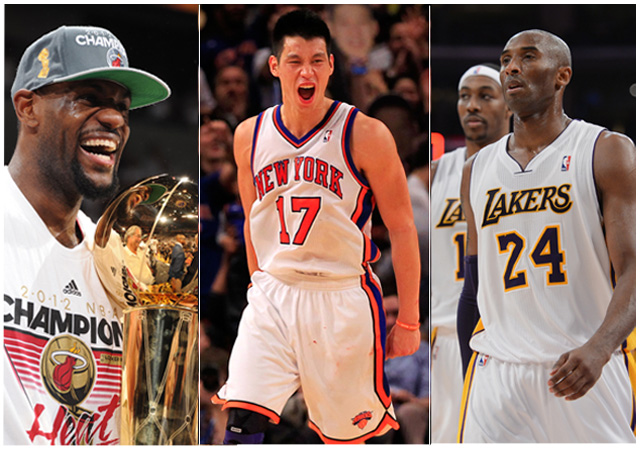 From LeBron finall winning a crown, to Linsanity, to trouble in Lakerland, 2012 was a very interesting year.
(Getty Images)
By Matt Moore, Zach Harper, and Royce Young, CBSSports.com Eye on Basketball
On Old long syne my Jo,
On Old long syne,
That thou canst never once reflect,
On Old long syne.
Another year begins, and we're left to do the same reflection so many do on New Year's Eve, looking back at this wackadoo sport we cover and marvel at just how bizarre and incredible it is one day to the next.
In 2012, we saw a king crowned, a fire extinguisher broken, Linsanity break loose, and ... oh, we're getting ahead of ourselves. Here are the best (and worst) moments of 2012 in the NBA.
LeBron James wins the NBA title: We finally got to talk about something else. After leaving Cleveland, losing in the 2011 Finals with his new team, enduring years of unprecedented media and fan hype, and putting the team on his back in Game 6 against the Boston Celtics, LeBron James finally broke through to the other side of the "Will he ever win a title" discussion. LeBron exorcised the demons for himself, his team and really the entire basketball world.

The discussion had become so repetitive and so mundane in its nature that it was like banging your head against the wall for days on end. Nothing was ever going to come out of it and we were never going to move on as a basketball society until James could finally call himself a champion. Now, we get to see where he takes the success and move on to new arguments. Also, it's weird when the best player in the NBA can't call himself a champion. We don't have to discuss that anymore. -- Zach Harper
Linsanity: The best way I can describe that crazy, brief period of time in the Winter of 2012 when Jeremy Lin took the sports world by storm is this. In sports, we always obsess over results. Championships and playoffs are all that are supposed to matter. But people like me will remember Lin's month of brilliance.

His 38-points against the Lakers. His game-winner against Toronto. How he flummoxed the Mavericks, bamboozled the Nets and left Minnesota dazed and confused.

It was a sensation, because of his story, because of his identity, but mostly, honestly, because of his play. People won't remember Game 4 of most Finals, but they will remember where they were when Lin lit up Kobe in MSG. It was what makes sports great, if only for a little while.
LeBron James in Game 6 of the 2012 Eastern Conference Finals: At the time, I wrote the following:

"LeBron, basically: 'I took your heart, I took your pride, I took your ring, I took your Garden, and I've taken the key with me. King me.'"


It was one of those games that left you breathless. What's weird is that that game is largely attributed as the start of James' dominance. But really, that started in the previous series against the Pacers. That was when James took over in the paint. In Game 6 vs. the Celtics in the Eastern Conference Finals, James went to the jumper. It's the most unreliable part of his game, the part that he too often went to out of default.

But in this game, there was just no stopping him. Maybe he was just hot and that gave him confidence. Maybe he just decided there was no way the Heat were losing that game. But either way, it was a crushing loss that left the Celtics stunned. It was brilliant, from the rim to the arc, and goes down in history as the crown jewel of James' 2012 crown. -- Matt Moore

Blake Griffin's dunk on Kendrick Perkins: For a guy who posterizes defenders regularly and has honestly taken some of the excitement out of dunks just because we've seen so many amazing ones from him, this one was special.

It was in part because Perkins is not just a good defender (in some respects). It was in part because Perkins is a mean mugger who gives out the attitude of being the baddest dude on the floor. But mostly it was because it was Down. Right. Nasty. -- Matt Moore
The Spurs' Winning Streak: This is one of those things that is a lot better in concept than execution. The reality is that the Spurs' 20-game win streak, with 14 of them coming by double-digits, has to be considered with a certain amount of context. The Spurs faced teams that were either resting or tanking to end the season, a completely out-matched Utah Jazz team, and a woefully exhausted and injured Clippers team.

But for a while, the Spurs really were the best team in the NBA, playing offense the way you imagine it played. Cutters finding open shooters from high-percentage spots, strong post-play, tough rebounds, and beautiful, looping transition plays. They were just better for a long time.

That all ended when the reality of their poor defense, hidden beneath that offense, was revealed against OKC. But San Antonio gave us a month-and-a-half of basketball art. -- Matt Moore

The Lakers' Autumn of Chaos: In the end, the Dwightmare came to an end in a surge of surreal inevitability. It was yet another flurry of "reports" from "sources" claiming there was a deal in site. Then it happened. It was real, Dwight Howard had joined Kobe Bryant, Steve Nash, and Pau Gasol on the most famous franchise in basketball, and you could aready hear people planning their parade spots.

There was talk of 72. I thought for sure they'd win 64-plus. This thing seemed a lock.

Then a funny thing happened.

They lost the preseason. I don't mean they lost the majority of the preseason. I mean they lost the entire preseaon. They went oh-fer, and we laughed about it. "Ha, isn't it funny that this team didn't win a meaningless exhibition. They're really in trouble! Yuk-yuk-yuk!"

Opening night, Staples Center, a new era of greatness was to begin.

99-91, Dallas.

Whoops.

Then Portland, an even worse loss. Then the Clippers, little brother, the lower-rent tenants, the punchline kids, controlled the Lakers from start to finish. A win over Detroit gave everyone a sigh of relief. But then another demoralizing loss to the Jazz, and the wheels came off, and all hell broke loose.

Mike Brown fired. Bernie Bickerstaff took over, and did pretty well, not that anyone noticed. Phil Jackson contacted: the media and fans rejoice! Return of the Zen Master! It's a done deal!

Whoops.

Mike D'Antoni announced, gnashing of teeth, grinding of gears. And still, the Lakers were losing. The Kings, the Grizzlies, the Pacers. All without Steve Nash and Pau Gasol. (Oh, did I mention they both got hurt? Yeah, that happened too.)

Finally, Gasol and Nash came back, and the ship's been righted, to a degree. But for the entire month of November, there was nothing but chaos and drama in Lakerland, even for them. -- Matt Moore
Amar'e fire extinguisher: After losing Game 2 of the Eastern Conference first round against the Miami Heat,New York 's Amar'e Stoudemire decided to use a fire extinguisher as a punching bag to get his frustration out. Here's a problem with that idea: it's metal and it's behind a pane of glass. Amar'e ended up needing stitches and said the cut was a "millimeter away" from his nerve.

We've seen plenty of outbursts after games over the years. Guys throw televisions or kick exercise bikes or throw their accessories in disgust. But it's rare we see a guy nearly end his career because of punching a pane of glass like that. Perhaps they need to baby proof the facilities in Madison Square Garden, just in case the playoffs don't work out exactly as Amar'e is hoping for. -- Zach Harper
Sacramento Kings in general: DeMarcus Cousins was having issues with coach Paul Westphal and eventually the Kings chose Cousins over Westphal. Before that, Cousins was living up to his reputation as a head case and someone who distracted everybody away from the team goal. Once Westphal was ousted and Keith Smart was put into place, Cousins seemed to shape up and had a really nice sophomore season in the NBA. In the mean time, the Kings' owners, mayor Kevin Johnson, and the NBA worked really hard during All-Star weekend to get an arena deal hammered out and it was celebrated in a home game against the Utah Jazz shortly after. Everything was going to be great in Sacramento.

Then the Maloofs decided it was an unfair arena deal and Cousins has spent the last two months undoing any goodwill and happy thoughts that had been thrown his way. The Kings are allegedly desperate to move out of Sacramento even though they're sort of denying it. There have been failed discussions to get them to Virginia Beach. And Cousins has confronted an announcer, punched O.J. Mayo in a private area, and been suspended for excessively swearing at his coach.

The Kings have become a soap opera and still haven't managed to hit rock bottom yet. Nice job, Maloofs and company. -- Zach Harper
Andrew Bynum's everything: Andrew Bynum has been a busy guy this year. He famously pulled up for a 3-pointer when the shot clock wasn't near the end of its cycle and was sort of dumbfounded that Mike Brown had such a problem with it. Months after being eliminated from the playoffs, he was a part of a four-team megadeal that moved him to Philadelphia, where he'd get to finally see what it's like to be a No. 1 option.

The only problem with that is he's been ravaged by a knee injury and hasn't seen one second on the basketball court this season. The Sixers are still waiting to see what they can do with him on the court and in the meantime, he's been hurting himself while bowling. The most he's been able to do for the Sixers is grow out his hair in hilarious fashion. Congratulations, Philadelphia; you've acquired Clarence Williams III from Tales from the Hood. -- Zach Harper
Clippers winning streak: It hasn't ended yet, but a 17-game winning streak in Los Angeles is definitely something worth mentioning. They didn't lose a single game in December, becoming the third team in NBA history to go 16-0 in a month. We have no idea how long this streak will go. Between the improvement of Blake Griffin, DeAndre Jordan and Eric Bledsoe and the excellence of Chris Paul, coupled with the depth of a really good bench that isn't even completely healthy yet, the Clippers look like they're ready to shake off the Sterling-laden failure of Clippers' past.

This team is talking title contention for the first time in their history in Los Angeles. It doesn't matter if the streak ends at 17 or moves closer to the all-time record of 33 games in a row, this Clippers have dazzled us for an entire month of perfect basketball. -- Zach Harper
Olympic gold: The U.S. men's basketball team once again was supposed to be tested, as the world continues to prove it belongs up there on an international stage. While the Americans had significant injuries to their roster (Dwight Howard, Derrick Rose, etc.), they still had the best players in the world showing patriotic pride to bring home the gold medals once again.

LeBron James dominated, Kevin Durant and Carmelo Anthony poured in points, and even rookie Anthony Davis managed to prove his place in the world in a few garbage minutes here and there. Team USA defeated Spain in a 107-100 contest that challenged everybody involved and reminded basketball fans everywhere that it takes more than just the top superstars from the NBA to win the gold medal, but it certainly does help. -- Zach Harper
Hello, Brooklyn. The Nets moved across the river leaving their old digs in New Jersey for the bright shiny lights of Brooklyn. They made a splash with a breathtaking arena, new colors, new logos and mostly, a new roster.
The Nets wanted to get the attention of New York and establish themselves as a serious rival to the traditional neighbors, and they did a great job of it early on, starting 11-4 and beating the Knicks in the first Battle of the Boroughs. Then things crashed down on them leading to coach Avery Johnson getting canned and the team's chemistry and makeup coming into question. -- Royce Young
The Bearded blockbuster. I was standing among 85,000 other people when I found out that James Harden was traded to the Rockets.
The University of Oklahoma was playing Notre Dame in one of the year's biggest college football games, and one of the biggest ever to happen in the state of Oklahoma.
But as word began to spread that Harden had been dealt to Houston, amazingly, astonishingly, the focus in the crowd turned away from the game -- which was just knotted at 13-13 in the fourth quarter -- and more on what just happened with the Thunder.
Wait, Harden's gone? Where? Who did OKC get? What happened? Why did this happen?
The process of one of Oklahoma City's core pieces getting moved seemed to happen in a flash. Harden turned down an offer earlier in the day, and once the Thunder made a final proposal that was rejected, general manager Sam Presti unlocked the briefcase holding the launch codes. And that was that. -- Royce Young
Derrick Rose's injury. Holding his knee, holding his knee and down. Rose's injury in Game 1 essentially eliminated the Bulls on the spot, but it also completely shaped the 2012 title picture.
The Heat, a team struggling to find itself in the postseason, was able to skip their top competition in the Bulls and instead drrew the Pacers. With an injury to Chris Bosh and an unhealthy Dwyane Wade, the Pacers went up 2-1 on the Heat and appeared to have them on the ropes.
You can be sure if the Bulls, with a healthy Rose, had drawn the Heat in that situation, they wouldn't have been so forgiving and LeBron might just be searching for that ring still.
Rose's injury not only impacted the 2012 title race, but potentially the 2013 one too. Rose is on his way back and could return early sometime in 2013, but will he be himself? And will it be too late for the Bulls to put themselves together and compete for the Eastern crown? -- Royce Young
Clippers come back. One basket. Then another. Then another. With the Clippers down 24 in the fourth quarter of Game 1 against the Grizzlies, most everyone was already turning their attention to Game 2. Including the Grizzlies, evidently.
Fueled by a barrage of 3-pointers as well as hapless offense by Memphis, the Clippers overcame the deficit to improbably steal Game 1, setting the tone for the series. The Grizzlies were very likely the superior team, but the Game 1 collapse defined the series. It eventually went seven games with the Clips prevailing. -- Royce Young
Stern stepping down. Twenty-eight years David Stern ruled the NBA. And he'll make it an even 30 before he finally walks away. Stern announced his intention to retire Feb. 1, 2014, marking exactly 30 years as commissioner of the NBA. He's overseen the greatest growth ever in the league, expanded the brand globally, and made it one of the most profitable sports in the world. He's also overseen multiple lockouts, controversies (like the Tim Donaghy saga) and issues.
But there's no denying the impact and influence Stern has had on the game. When he hands the keys to the big car to Adam Silver, he'll be passing it over in much better shape than when he found it. -- Royce Young