Chargers sign Kyle Boller to take place of injured Charlie Whitehurst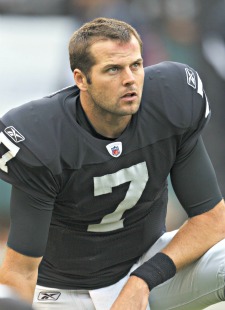 Boller has another opportunity to make an impact. (US Presswire)
On Thursday night, on the first day of training camp, journeyman quarterback Charlie Whitehurst, who's back in San Diego these days backing up Philip Rivers, got hit in an 11-on-11 drill and cut practice short after suffering an apparent knee injury.
He walked off the field under his own power, and though he told reporters after practice, "I'll be all right. It's not bad," the team has other ideas. Now, the Chargers have announced they've added another journeyman quarterback to take his place -- Kyle Boller.
If you didn't know what happened to Boller after his two-year stint with the Raiders, where he played a combined seven games in 2010 and 2011 and combined for four (!) interceptions in 32 pass attempts, you probably weren't alone. But make no mistake, the former first-rounder has been busy trying to find a job.
He tried out for his original team, the Ravens, in the offseason. He tried out for the Titans. And he signed with neither. Obviously, Oakland wasn't interested in bringing him to back up Carson Palmer.
The fact the Chargers were desperate enough to give him a deal might mean Whitehurst could be hurt worse than previously thought. Or, considering undrafted free agent Jarrett Lee is the only other quarterback on the roster, the team simply needs a live arm for training camp if Whitehurst is out just a short time.
Either way, Boller, who's 31 years old and probably needs to show some semblance of competence to stay in the league, gets another chance to earn a job. The good news for San Diego? While Whitehurst mostly has been awful in his career, there was a time when Boller was mediocre as a starter. But if Rivers gets injured during the season and Boller is the one to take over, you can expect San Diego almost immediately to drop out of the AFC West race.
Because he hasn't even been mediocre in quite some time.
UPDATE (3:14 p.m. ET): According to Rapid Reporter Dan McLellan, Whitehurst is expected to miss 2-3 weeks.
"You never want that to happen to a teammate," Lee said. "Especially a guy like Charlie, he has been very good to me. But, the opportunity has been great to get in there and get some live reps."
For more NFL news, rumors and analysis, follow @EyeOnNFL on Twitter, and subscribe to our Pick-6 Podcast and NFL newsletter. You can follow Josh Katzowitz on Twitter here: @joshkatzowitz.