Jim Rutherford would look at Alexander Semin on short-term contract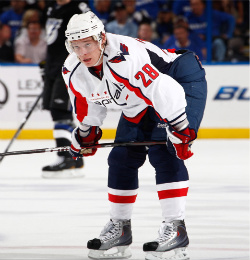 Alexander Semin may have to settle for a short-term deal (Getty Images
Not only has free agent forward Alexander Semin not signed with a new team yet, there doesn't seem to be much interest in his services (at least that we've heard of). He is clearly the best player still remaining in the free agent pool, and was always one of the top players out there. His talent is off the charts and he's always produced.
But for one reason or another the NHL seems to be afraid of him.
Very afraid.
One team that might be interested in signing him to a short-term contract, and the first one we've seen publicly acknowledge it as a possibility, might be the Carolina Hurricanes. The team took itself out of the Rick Nash sweepstakes on Thursday after the Blue Jackets asking price of Jeff Skinner appeared to be a dealbreaker (which was a wise decision). That leaves them, and the rest of the NHL now that Zach Parise has signed with the Minnesota Wild, scrambling for a plan B when it comes to a goal-scoring winger.
Hurricanes general manager Jim Rutherford told Chip Alexander of the News Observer that his team would look at Semin, but only a short-term contract.
"We would look at Semin on a short-term basis," said Rutherford. "We wouldn't want to get locked in to anything, because we've all heard the stories about him. We do like his skill level. It could be that we could bring him in for a year, get to know him and go from there in terms of considering something longer term."
If you're wondering about the "stories" regarding Semin all you have to do is rewind back to July 1 when the TSN panel tore him apart for being "the ultimate coach killer" and a "complete loser."
As we've said before, there is no question he has flaws to his game. But it almost seems as if people (analysts, media, fans) are constantly waiting for him to make a mistake or miss an assignment so it can blown up to fit the description that's already been written/said about him countless times.
The chances of him getting a long-term deal at this point don't seem great, so if he wants to remain in the NHL he may have to settle for a short-term contract. For a team like Carolina, Detroit, or even Pittsburgh that's looking for a goal-scoring winger that might end up being a pretty good value in terms of production.
For more hockey news, rumors and analysis, follow @EyeOnHockey and @agretz on Twitter and like us on Facebook.