Critical Coaches: How deep is the relationship between agents and AAU programs?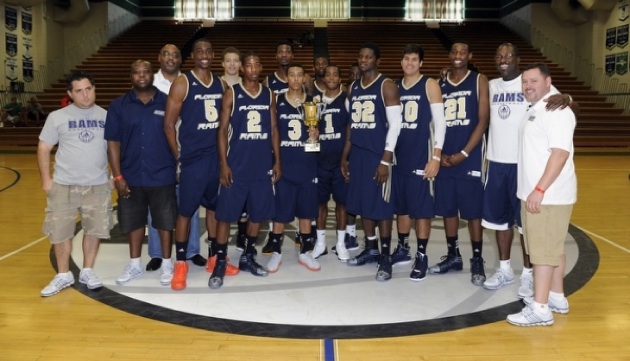 Matt Ramker (far left) and the Florida Rams were one of four AAU teams punished due to agent affiliation. (Court Cred)
CBSSports.com's college basketball quartet spent the July open recruiting period hobnobbing with nearly 100 coaches, brain-picking them on some of college basketball's current issues. From the best players to their comrades in coaching; from the AAU programs to the agents' involvement; from the rule changes to the NCAA as a whole. We had to promise them anonymity, and in exchange, they gave us honest answers. Over the next three weeks here on the blog, we'll be putting out one question per weekday and giving you the array of results, straight from the coaches' mouths.
We began looking at some of the bigger issues in college basketball on Tuesday, asking questions about the NCAA rules. Continuing with big-picture topics, it's time to explore one of the biggest subjects on everyone's mind the past couple of years: the relationship between the AAU circuit and sports agents – or, at least, runners of agents. The NCAA took action against four AAU programs earlier this summer for their affiliation with Andy Miller's agency. That could just be the tip of the iceberg, as the NCAA is reportedly looking into other AAU programs to investigate agent connections. On the other hand, the relationships might not be as rampant as some are led to believe.
The question is: What percentage of prominent AAU programs do you believe are tied to agents?
61 percent.
Quotes that stuck:
"If 60 percent of AAU coaches are tied into agents, the other 40 are trying to get tied in."
"Tell me, at this point, what's the difference between what Nike/Adidas/Under Armour's [people are] doing and whatever an agent can do."
"All AAU teams should be non-profit organizations that have to file. Where they get money from should be publicly available."
"Some have been around for so long and are really great programs. But others have come up in the past 10 years, and I don't know how viable they are. Take a look. There's gotta be a reason why all these people do this, and it's not to spend their own money."
"I'll say 100 percent. No, that's not fair. It might not be 100 percent. Put me down for 99 percent."
"Most sponsored AAU programs have some relationship with an agent or representative from an agency. It gets tricky with family advisors and people on the periphery."
Takeaway (by Jeff Borzello):
AAU basketball is everyone's No. 1 villain in basketball these days.
If there's a nefarious recruitment, people point their finger at AAU. If there's "bad" or selfish basketball being played, it's blamed on the AAU culture. The lack of player vs. player rivalries in the NBA? AAU's fault. Some of the blame can be attributed to the simple fact that many people don't trust the AAU circuit; they don't trust the coaches of the teams or the powers and shoe companies behind the AAU programs.
Last month, the NCAA banned four AAU teams from the July live period for having an association with an agent. New England Playaz, Florida Rams and Worldwide Renegades had to separate themselves from their program director, and the players had to find a different team. SEBL Elite All-Stars was allowed to stay intact, but needed to find a new coach. The NCAA investigation stemmed from an email sent by prominent sports agent Andy Miller to the program directors of the four aforementioned AAU programs. In the email, Miller scolds the four men – T.J. Gassnola, Matt Ramker, Desmond Eastman and Tony Edwards – for not sending him enough first-round picks in exchange for financial support.
The four programs abided by the NCAA's punishment, separating from their program directors for the month of July. They have been unable to find out whether the penalty is over or what the timeline is on them not being able to be affiliated with NCAA-sanctioned events going forward.
Incidents like that obviously don't help the perception that AAU basketball is being heavily affected by agents and outside influences.
It shouldn't come as a surprise that many of the top AAU programs have some association with agents. After all, when these prominent programs are getting big money from Nike, Adidas and Under Armour to be successful and produce pro players, it's hard to avoid sports agents. Agents funnel money to certain AAU teams in an attempt to get a leg up on the competition when it comes time for a prospect from that team to choose an agent.
Coaching one of the major AAU teams isn't necessarily a profitable exercise. It takes a financial commitment – or plenty of financial backing. If the shoe companies aren't providing enough funding, a program director is more apt to listen to agents or runners. Some college coaches also pointed to runners and agents placing kids on shoe-sponsored teams – and then giving money to said teams in exchange.
I spoke with several AAU coaches during the summer, and one of the subjects that came up was pipelines between AAU programs and sports agents.
"If multiple players from my program have had success with the same agent, it makes other players want to go to that agent too," one AAU coach said. "That doesn't necessarily mean we're tied to that agent."
It doesn't mean they're not, though.
The NCAA's punishment in early July was a warning shot to the rest of the AAU programs getting any sort of handouts from agents. College coaches say it's just the beginning; who else will the NCAA catch?
Coming Thursday: Who's the best at bending the rules but not breaking them?