R.I.P. 2012 Detroit Tigers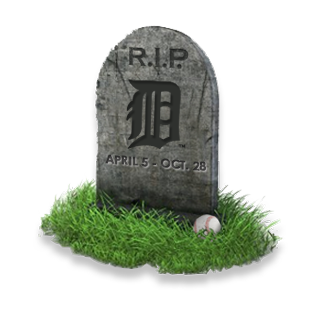 After winning the AL Central, taking down the A's in five games in the ALDS and sweeping the Yankees to win the American League, the Detroit Tigers were swept in the World Series, with the final blow coming Sunday night in Detroit. As we've done with 28 previously eliminated Major League Baseball teams, let us eulogize the season that was.
What went right
Justin Verlander remained an elite ace, Prince Fielder had the huge season that was expected and Miguel Cabrera won the triple crown with an MVP-caliber season. We knew those three could play, though. Austin Jackson rounding into offensive form with his elite defense was big, as was Max Scherzer's huge step forward in the season's final two months. Doug Fister and Anibal Sanchez were also real good down the stretch, giving the Tigers a dangerous top four in the rotation -- as we saw throughout the playoffs.
Obviously that four-game sweep of the Yankees was the high point of the season.
What went wrong
Fister was injured for much of the first half, Alex Avila and Jhonny Peralta took big steps backwards offensively while regular-season Delmon Young (homer-heavy postseason notwithstanding) and Brennan Boesch disappointed as well. Jose Valverde went from zero blown saves to five and his ERA skyrocketed -- along with the blood pressure of Tigers fans forced to watch him close down games. Also, Tigers fans like to defend Cabrera for one, but every defensive metric that measure range has the Tigers among the worst in baseball. And that's even with Austin Jackson covering what seems like the entire outfield.
And, of course, there was the offensive outage that was the four-game World Series.
More Tigers-Giants coverage
More World Series Coverage
MVP: Please. Miggy.
LVP: It has to be the offense in the World Series.
Free agents to be: RP Jose Valverde, SP Anibal Sanchez, OF Delmon Young, Jhonny Peralta ($6 million club option), Octavio Dotel ($3.5 million club option), C Gerald Laird
Gameplan heading into the offseason
Considering Peralta only had an 85 OPS-plus and lacks range on defense, they need to let him walk and go after a shortstop that plays good defense. Don't worry about hitting, because they didn't get much from Peralta this year. The problem is they'd have to look for a trade, because the pickings on the free agent market are slim. So maybe bringing back Peralta is a backup plan.
I like the idea of bringing Sanchez back as a strong No. 4 starter, but not Valverde at closer. Just let him go and figure out another route. We've seen so many teams come up with good, quality closers on the cheap from in-house in recent years, what about giving Al Alburquerque a shot? He certainly has the stuff.
With Victor Martinez coming back to serve as the DH, the Tigers get a big offensive boost and also have zero excuse to bring Young back.
And if they really want to spend a lot of money again, as owner Mike Ilitch really wants that World Series title, might I suggest looking at Josh Hamilton for left field? Cabrera, Fielder, Hamilton, Jackson and Martinez on offense with that starting rotation? Get some things figured out in the bullpen and on defense and that's downright scary.
Ridiculously premature prediction for 2013
For the first time since 1942-44 with the Cardinals (Mort Cooper, Stan Musial and Marty Marion), a team houses three consecutive MVP winners in the form of three different players. This time, it's Prince Fielder.