Ranking the 2013 Hall of Fame candidates: Nos. 20-16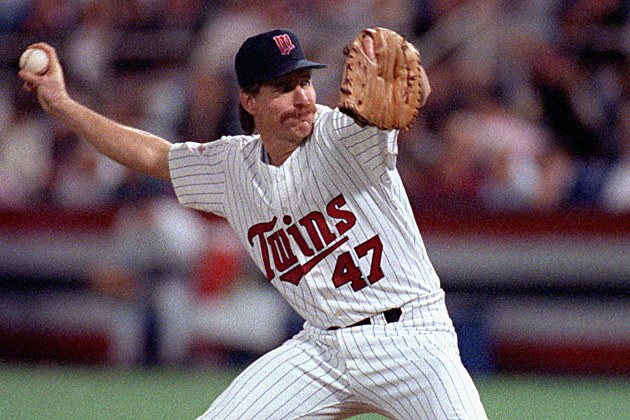 Is Morris a Hall of Famer? We voted no. (Getty Images)
We've labored through all the irrelevant names on the 37-man BBWAA Hall of Fame ballot, and now we're ready to get locked in with the full-on arguments. We're only to Nos. 16-20 on the Eye on Baseball ballot (which is, yes, unofficial), but we have at least four names here sure to garner plenty of support from several different fan bases.
The most interesting is Jack Morris. He is by far the most polarizing name in Hall of Fame arguments that doesn't involve a connection to PEDs (either by evidence, logic or mere conjecture). I also believe hometown fan bases for Bernie Williams, Don Mattingly and Fred McGriff are capable of presenting pretty vehement arguments for their guys as well.
Basically, aside from some strong Lee Smith supporters, we believe this entry in our series of ranking the Hall of Fame candidates is the first time we're sure to see a good amount of venom in the comments section -- and the good news is that it won't stop, because starting Friday with No. 15 we will be profiling the candidates one at a time.
As we've previously mentioned, these candidates have been ranked according to the average of the individual rankings of our three bloggers: Dayn Perry, C. Trent Rosecrans and yours truly. Yes, it's subjective, just as all Hall arguments are.
Baseball Hall of Fame
Related coverage
20. David Wells; SP; Blue Jays, Tigers, Reds, Orioles, Yankees, White Sox, Padres, Red Sox, Dodgers; 1987-2007
Year on ballot: 1st
Career stats: 239-157, 4.13 ERA, 1.27 WHIP, 2,201 K, 719 BB, 3,439 IP, 54 CG, 12 SHO
bWAR, rank among candidates: 49.2, 15th
JAWS, ranks among candidates: 39.1, 18th
"Boomer" was a late bloomer, as he wasn't even a full-time starter until in his 30s. He lasted through his age-44 season, though, so he was able to amass some solid counting numbers -- such as ranking 53rd in career strikeouts and 78th in career innings pitched. He was a three-time All-Star and the 1998 ALCS MVP.
Speaking of the postseason, Wells has two World Series rings and was 10-5 with a 3.17 ERA in 125 playoff innings.
Due to his longevity, Wells' baseball-reference.com similars are pretty respectable (Andy Pettitte, Kenny Rogers, Herb Pennock, Mike Mussina and Curt Schilling are the top five). Interestingly enough, had he been as good as he was in his 30s when he was in his 20s, he'd probably have gone over 300 wins and be in a great position for enshrinement. Instead, we aren't looking at a Hall of Fame resume here. We're looking at a guy who was a very good pitcher for a long time.
Would we vote for him? Snyder: No (21); Rosecrans: No (18); Perry: No (19)
19. Don Mattingly; 1B; Yankees; 1982-1995
Year on ballot: 13th (named on 17.8% of ballots last year)
Career stats: .307/.358/.471, 222 HR, 1,099 RBI, 1,007 R, 2,153 H, 442 2B
bWAR, rank among candidates: 39.8, 20th
JAWS, ranks among candidates: 37.1, 19th
"Donnie Baseball" had a very impressive prime, unfortunately, it didn't last long enough to rack up the kind of counting stats a first baseman needs for enshrinement.
In fact, let's take a look at Mattingly's prime. From 1984-1989, his average season was hitting .327/.372/.530 with 203 hits, 27 homers, 114 RBI, 97 runs and 43 doubles. He was an All-Star all six of those seasons and won a Gold Glove in five of the six. He took home three Silver Sluggers in that time, too. Adjusted for era and ballparks, he was 47 percent better than the average hitter at getting on base and hitting for power (yes, I speak of his 147 OPS-plus).
We probably would have already seen Mattingly enshrined in Cooperstown if not for the recurring back issues that derailed his career.
Also of note: I love it when a power hitter walks more than he strikes out a la Chipper Jones or Gary Sheffield in recent memory. Mattingly did so almost every season, ending with 588 career walks and just 444 strikeouts in 7,722 plate appearances. Mark Reynolds weeps.
Would we vote for him? Snyder: No (19); Rosecrans: No (20); Perry: No (18)
18. Jack Morris; SP; Tigers, Twins, Blue Jays, Indians; 1977-1994
Year on ballot: 14th (named on 66.7% of ballots last year)
Career stats: 254-186, 3.90 ERA, 1.30 WHIP, 2,478 K, 1,390 BB, 3,824 IP, 175 CG, 28 SHO
bWAR, rank among candidates: 39.3, 22nd
JAWS, ranks among candidates: 35.1, 21st
Uh oh, it's tar-and-feather the Eye on Baseball guys time for many of you.
Morris has really begun to pick up steam with both the voters and the fans in recent years as someone who many believe is an obvious Hall of Famer. He had the most wins in the '80s, put together a transcendent postseason performance (pictured above) and was an unbelievable workhorse for years.
Here's the problem: Morris wasn't great at anything but racking up innings and wins (as the beneficiary of mostly playing for winning teams). He wasn't great at run prevention (3.90 ERA, good for a 105 ERA-plus -- meaning only five percent better than average in the era), keeping guys off base (1.30 WHIP) or taking pressure of his defense by striking guys out (5.8 K/9, in addition to a lackluster 1.78 K/BB ratio).
In terms of the postseason, let's not be fooled into thinking Jack Morris was Curt Schilling. Morris was 7-4 with a 3.80 ERA, 1.25 WHIP, a low strikeout rate and a lackluster K/BB ratio in 13 career postseason starts. Yes, he had the unbelievable 10-inning shutout in Game 7 of the 1991 World Series, but overall Morris in the postseason was what he was in the regular season. He was a grinder who occasionally came through with a big-time gem for his team.
If you really, truly believe that Morris "pitched to the score" (that is, got a big lead and then needlessly allowed baserunners and runs on purpose -- as if any pitcher would actually do that) and that only wins/losses matter, then you can discuss his 254 wins -- which is still only good for 42nd of all-time, hardly a travesty to leave out of the Hall.
If you believe there's more than meets the eye here and look deeper, you realize Morris was a good pitcher with incredible stamina who was blessed to garner lots of wins due to circumstances. We should respect his outstanding moments and his ability to eat so many innings in so many different seasons for his teams, but that doesn't mean we have to enshrine him.
I also find it curious that some BBWAA members now talk about how if you "saw him pitch, you knew." That's interesting, because Morris never finished higher than third in Cy Young voting. He only received Cy Young votes in seven of his 18 seasons. He also only received 22.2 percent of the vote his first year on the ballot and dipped down to 19.6 percent the next year. Not only that, but he was only an All-Star five of 18 seasons. Where was the respect at the time from the managers around baseball?
Simply: How did so many guys who watched Morris pitch treat him for years as merely a good, but not great, pitcher yet now believe he's an easy Hall of Famer? What happened in the past decade? It's hard to figure.
The good news for all the Morris supporters: You can probably rest easy. When a player reaches more than 2/3 of the vote with at least two years left on the ballot, he's a veritable shoo-in. I fully expect Morris to get in on this election.
Would we vote for him? Snyder: No (15); Rosecrans: No (19); Perry: No (21)
17. Fred McGriff; 1B; Blue Jays, Padres, Braves, Devil Rays, Cubs, Dodgers; 1986-2004
Year on ballot: 4th (named on 23.9% of ballots last year)
Career stats: .284/.377/.509, 493 HR, 1,550 RBI, 1,349 R, 2,490 H, 441 2B
bWAR, rank among candidates: 48.2, 16th
JAWS, ranks among candidates: 40.7, 17th
"Crime Dog" might have seriously cost himself enshrinement by not hitting seven more homers, though his era did bleed into the stained "steroid era" where home run totals became a lot more watered down. No, I don't think McGriff used, I'm just saying we were moving into "500 home runs doesn't mean what it used to" territory and McGriff didn't even get there.
In fact, the era in which most of McGriff's career occurred probably cost him. He was very good for a very long time, but through most of his 30s guys were putting up video-game numbers while McGriff steadily stayed around 30-homer, 100-RBI range (he averaged 28 homers and 99 RBI from 1994-2002).
So it's possible he's totally screwed due to era, but in looking at the numbers, McGriff comes up just short.
You might not have known: McGriff ranks 30th in MLB history with 171 career intentional walks.
Would we vote for him? Snyder: No (18); Rosecrans: No (16); Perry: No (17)
16. Bernie Williams; OF; Yankees; 1991-2006
Year on ballot: 2nd (named on 9.6% of ballots last year)
Career stats: .297/.381/.477, 287 HR, 1,257 RBI, 1,366 R, 2,336 hits, 449 2B, 147 SB
bWAR, rank among candidates: 45.9, 17th
JAWS, ranks among candidates: 40.8, 15th
Five All-Star appearances, four Gold Gloves, four World Series rings and a solid career stat line. Bernie is one of those guys like Paul Konerko who always come to mind when people bring up this fictional "Hall of the Very Good."
Without being an elite player, Williams was the total package of power, speed, a selective batting eye, decent contact hitter, a good teammate and a sure-handed center fielder.
In going both from memory of watching Williams play and also combing through the numbers, I can't think of a single compelling case to paint Williams anything other than a very, very good all-around baseball player for a prime that lasted nine to 11 years. It's a very admirable career and one the overwhelming majority of us wish we had, but there's little here that says Hall of Fame. I'm sure some Yankees fans would disagree, but otherwise this seems like a placement that shouldn't merit much argument.
Would we vote for him? Snyder: No (17); Rosecrans: No (17); Perry: No (16)
For more baseball news, rumors and analysis, follow @EyeOnBaseball on Twitter, subscribe to the RSS feed and "like" us on Facebook.