Independent team to have Manti Te'o girlfriend bobblehead night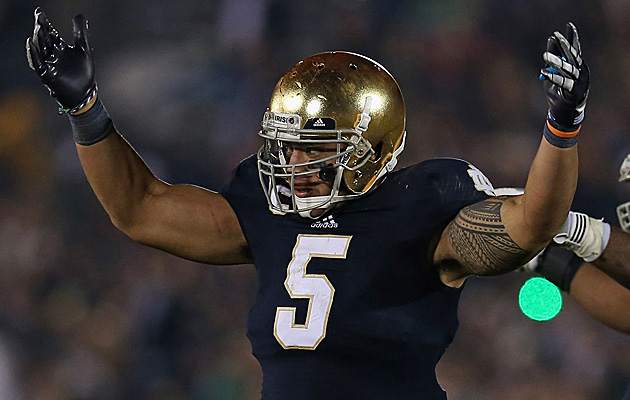 The mockery of Te'o's faux-girlfriend has now extended to a baseball promotion. (Getty Images)
Minor-league and independent baseball leagues are pretty well known for their off-the-wall and sometimes very clever promotions. After all, they need to find creative ways to lure fans to the stands. So, in the aftermath of the Manti Te'o mess -- head over to Eye on College Football for more coverage -- it's not too shocking that a team is having a "Manti Te'o girlfriend bobblehead night."
The Florence Freedom of the Frontier League -- an independent league, meaning there is no affiliation with Major League Baseball -- are having the giveaway May 23.
The giveaway is quite literally an empty box.
"This will be the best kind of bobblehead a fan could get," Freedom general manager Josh Anderson said in a press release. "Because now fans can make the bobblehead out to be whatever they want it to be."
The mockery of Te'o doesn't stop there, however. From the release:
To add to the imaginary fun, section 115 will be blocked and reserved only for fans to sit with their imaginary friends, girlfriends/boyfriends or spouses. There will also be a make pretend kiss cam, air guitar contest and an imaginary food fight outside the Airheads Kids Zone.
Though the jokes about Te'o will surely be stale by then, I love the "kiss cam" idea. It's taking "Te'oing" to the next level. Otherwise, it feels a bit over the top; this story will surely have died down by then.
The Freedom play in UC Health Stadium in Florence, Ky.
UPDATE: Another professional team has joined the fray, this time an MLB affiliate. The Brooklyn Cyclones (Class-A affiliate of the Mets) are going to be having "Fictitious Friday" this coming season. From the release:
Anyone who purchases one ticket at regular price will be allowed to bring their make believe significant-other to the ballpark free of charge. Fans will also have the chance to draw a picture of their girlfriend, because obviously something came up and she couldn't make it, so that their friends can finally see what she looks like. As a special treat, MCU Park will host a unique petting zoo for those in attendance, featuring a unicorn, a mermaid, and a Minotaur. The Cyclones are also in discussions with the Loch Ness Monster and Big Foot to throw out a ceremonial first pitch that evening. In keeping with the tradition of Coney Island amusements, the Cyclones will put a spin on a traditional carnival game, as fans that are able to toss a ping-pong ball into a fish bowl will receive a catfish. Lastly, all of the player headshots used on the video board will just be random people whose photos we find on the Internet.

"Everywhere you look, there seems to be another story about an athlete that was covering up something," said Cyclones General Manager Steve Cohen. "People don't know who, or what, to believe any more. That got us thinking, we should have a night where our fans don't have to worry about what's real and what's not, we'll just tell them everything planned for that night is a hoax."
Sigh.
UPDATE II: And now everyone welcome the San Jose Giants (High-A affiliate of the San Francisco Giants) to the party. They are having Lennay Kekua night on April 12. From the release:
The San Jose Giants will kick off their 2013 promotional schedule with an ode to the biggest, and strangest, sports story to break so far this year. On Friday, April 12 the organization will host Lennay Kekua Night at Municipal Stadium. Items such as catfish will be featured on the Turkey Mike's BBQ menu and fans who purchase a game ticket can bring their imaginary or real significant other to the game for free. A meet and greet will also take place prior to the game for all couples to introduce their significant others to their parents, to avoid any confusion about the existence of a boyfriend or girlfriend.

Two free future game tickets will be given to all fans who dress like Manti Te'o and to all Stanford University students because they may know or be Te'o's girlfriend. During the game, promotions will include individuals and their imaginary significant others competing to win great prizes.
There is good redeeming value to this one, though, because here is more from the release:
Despite the fun and wacky nature of this night, the San Jose Giants recognize the serious nature of a person being diagnosed with a deadly disease such as leukemia or lymphoma. As a result, the organization will host an auction on April 12 and make a donation to The Leukemia & Lymphoma Society®.
For more baseball news, rumors and analysis, follow @EyeOnBaseball on Twitter, subscribe to the RSS feed and "like" us on Facebook.