Topps baseball cards refuses to name Pete Rose as Hit King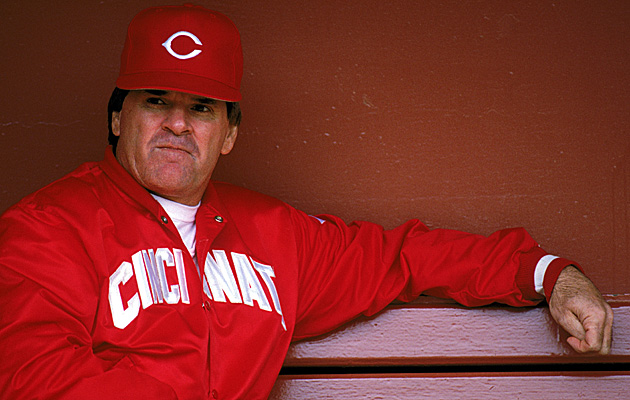 Sorry, Topps, but this man exists. (Getty Images)
Pete Rose -- Major League Baseball's all-time Hit King -- is banned from baseball. We know this. That doesn't mean we're banned from acknowledging that he exists, yet that's exactly what Topps baseball cards has decided to do (via Chicago Side Sports).
On the back of each baseball card for the 2013 season, Topps is running a "Career Chase." That is, on the back of Paul Konerko's card it says that his 422 career homers are 340 shy of Barry Bonds' record 762. Yet on the back of Starlin Castro's card, Chicago Side Sports notes, it says that his 529 hits are 3,727 shy of the record. It just doesn't say who owns the record, as it does with all other records.
The website, Chicago Side Sports (which also provides photo evidence), reached out to Topps and heard back the following:
Clay Luraschi, a spokesman for Topps, called the omission of Rose "a simple decision" but declined to elaborate. When pressed, he repeated that it was "plain and simple" that Rose's name should not appear on cards.
Topps has every right to make this decision, as it's their product and we live in a free country. I will in turn exercise my right to say it's a laughably asinine policy. In addition to being petty, it's a bad business decision, in my opinion, because Rose has legions of protective fans who anger easily. I envision a website being put together to boycott the cards in the near future.
For more baseball news, rumors and analysis, follow @EyeOnBaseball on Twitter, subscribe to the RSS feed and "like" us on Facebook. Also, individually interact with us on Twitter: @MattSnyder27, @daynperry and @mikeaxisa.