Dirk Nowitzki will play two more seasons and then see how he feels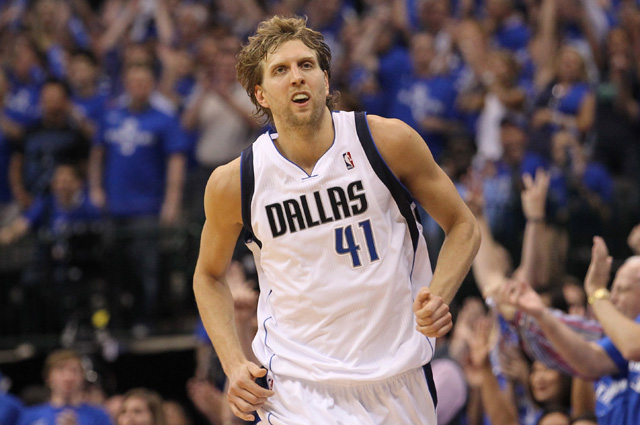 Dirk has at least two more years left, he says.
(Getty Images)
Dirk Nowitzki is 34 years old. He's played more than a thousand games. He's been in the league 14 seasons, won an MVP and won an NBA title. He's a sure-thing Hall of Famer, probably the greatest international player of all-time, the greatest Dallas Maverick of all-time and has an argument for greatest power forward ever.
How much longer does he have it in him? At least two more seasons, and maybe more.
In a Twitter Q&A with his fans, Dirk was asked how many more seasons he plans on going. "2 for sure and then see how I feel," was Dirk's answer.
Why two? Probably because that's how many more years he has on his contract (along with $43.6 million on it too).
Dirk was also asked "why not just jump ship to some 'Super' team?" and his response was, "I bleed blue."
Thing is, the Mavs have the potential to build their own superteam next summer. With lots of cap space and attractive free agents hitting the market, the Mavs could add one or two more stars to the roster with Dirk.
And not only would that make them very good, it could help relieve some of the load on Dirk and possibly extend his career. He said he never wants to play for another team than the Mavs, so he's not going to drag out his career hanging on for titles. He wants to do it in Dallas.
Regardless of how much longer Dirk goes, he's one of the all-time greats as is. He can only enhance his resume, not diminish it. He says he's got at least two in him. I have a feeling it'll be more than that, especially if Mark Cuban gives him a good reason to keep going.