Are the Lakers positioning for a run at LeBron James?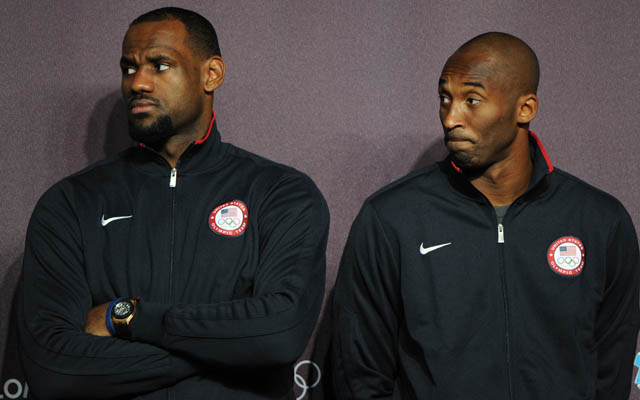 Could Kobe's successor in Los Angeles be LeBron?
(Getty Images)
It shouldn't shock you that the Los Angeles Lakers got Dwight Howard. They're the Lakers. They do that kind of thing.
So with Kobe Bryant telling Ken Berger of CBSSports.com that he's very likely to retire in two seasons, you can be sure the Lakers already are mapping out a plan to replace their franchise player. You might think they already did that with Howard. But no. Again, this is the Lakers.
Which means it's only natural that they might be targeting LeBron James in 2014. Via ESPN.com:
With their latest coups -- the stunning Steve Nash sign-and-trade and a victory in the Dwight Howard sweepstakes -- just now coming together for the first time, could the Lakers already be plotting out the next one?

Opposing executives think so. As teams continue their long-range planning and work up opposition strategies, the Lakers remain just as much a threat in the transaction game as they are on the court.

Several teams' executives have told ESPN.com they believe the Lakers are positioning themselves to make a run at LeBron James in 2014, when the Miami Heat star can choose to become a free agent.
This shouldn't really be a surprise. Because with the Lakers, it's basically this: There's a prime free agent available in [insert year], which means the Lakers will definitely be among the teams "positioning" to target him. And for the Lakers, "positioning" means "planning to get him."
But here's the thing: The math really works out pretty well. If Bryant does indeed retire after the 2014 season, that would free up nearly $30 million off the Lakers' cap -- right when James has an opt-out from the deal his signed to take his talents to South Beach.
Here's what one league executive told ESPN.com: "The agent part probably doesn't matter. LeBron is the best player in the league and he's making less than the max, so unless he's seriously hurt he's going to opt out in 2014, if only because I would assume he wants and deserves to get a true max. Even if the Heat win the next two titles there's a feeling that LeBron is going to become a free agent in two years no matter what."
It breaks down like this: The Lakers projected payroll in 2014-15 has only Nash under contract. Of course that doesn't include Howard, who the Lakers expect to re-sign. So that would add roughly $20 million. So assuming LeBron uses his opt-out, the Lakers will have the space.
Another thing though: Almost half the league will be in the same circumstance. Two years in the NBA is a long time and a lot of contracts will expire between now and then. It's quite an assumption to think that James would want to abandon Miami at that time, but then again, he might be looking for a new franchise to take his talents to. Dwyane Wade will be older and the Heat might not be built to contend past that point.
James likes playing with friends as much as he likes winning, so it might be wise to keep an eye on Chris Paul's impending free agency. That could be a hint as to where James might lean.
But while you can't rule out a bunch of other teams, you have to remember, it's the Lakers and they almost always get their man. So if James wants to become a free agent, you can be absolutely certain that the Lakers would be in play, if not the favorite.