The Chris Paul we've never seen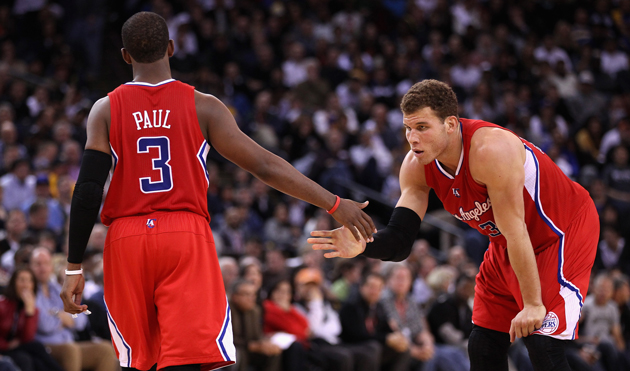 Is this the best Chris Paul we've ever seen?
(Getty Images)
I don't know how to put this, but Chris Paul is really good.
I hope everybody was sitting down for that revelation. The thing I wonder though is if we're going to see the best Chris Paul we've ever seen.
Paul's best season was 2008-09 when he led the league in assists (11.0) and steals (2.8). He had a true shooting percentage of 59.9 percent, a PER of 30.0, and a WS/48 of .292. The only other players in NBA history to hit those advanced metric marks all in the same season are Michael Jordan, Kareem Abdul-Jabbar, and LeBron James. That's it.
Paul finished fifth in MVP voting that year, behind James (winner), Kobe Bryant, Dwyane Wade and Dwight Howard. This was after posting better numbers than what got him second place in MVP voting (when Bryant won the award) the previous season.
After a knee injury that took some of his quickness and mobility from him during the 2009-10 and 2010-11 seasons, Paul bounced back with a fantastic campaign during his first year with the Clippers last season. Now that his knee appears to be completely healthy and he's surgically cutting through both the offense and defense of the opposing team during the preseason, we might see the best Chris Paul we've ever seen.
Strumming through meaningless preseason stats this morning, I discovered something kind of ridiculous. In the 139 minutes Paul played this preseason, the league's best point guard committed six turnovers. That's it. Compare that to the 44 assists he dished out in limited minutes over his five preseason games and you've got yourself a tidy and extraordinary 7.3:1 assist-to-turnover ratio.
But it's just not the precision he's embodying right now (more on that in a bit); athletically he looks as good as new. Paul has been digging down on players in the post with a quickness we haven't seen in years. He's attempting to swat big men's shots from behind. He's cutting and slicing through his opponents on both ends of the floor.
When CP3 is running the show for the Clippers, we don't see a player with the ball on a string like a Globetrotter at the free throw line. We see Yoda controlling everything with The Force. In the 2010-11 season, the Clippers were struggling to find an identity outside of Blake Griffin's athletic abilities. They had the 23rd best offense in the league, posting an offensive rating of 101.8 points per 100 possessions.
In Paul's first year with them, their offensive efficiency went up to 105.2 points per 100 possessions, good for fourth in the NBA. With even more offensive weapons (Jamal Crawford and Eric Bledsoe's emergence, and Lamar Odom if he gets in shape) at Paul's passing disposal and discretion, he could end up boosting that offensive rating up to the top of the NBA.
The precision in which he's orchestrated this Clippers team is almost robotic. He will pick and roll and pick and pop your team to death. He keeps his dribble alive, positions his body perfectly to get space, and leaves you anxious he'll be free for his deadly midrange jumper.
Play up too closely on him and he's got a driving lane followed by a passing lane. Play too far off on him and you're liable to give up that jumper or allow him full vision of the halfcourt options in front of him.
His lobs to Griffin and DeAndre Jordan have become mundane. They're almost too perfect to be awe-inspiring. There's little drama in what he'll do to the opposition offensively. He just rinses, lathers and repeats until the game is over and his team is victorious.
With his seemingly rediscovered quickness, we could see him back to being a 20-point, 10-assist per game kind of guy. We could see him dance with the 50/40/90 percentage club. We could see him be so quick and pestering on offense that he's flirting with three steals per game this season.
Paul with rediscovered quickness is like giving a lion a pair of cyborg legs and machine guns attached to its shoulders. It's a weapon we probably haven't seen from that position before. I have no idea if his supporting cast is good enough around him to make championship talks innocuous.
What seems evident though is it's not ridiculous to think he'll be heavily in the MVP discussion with the Lakers splitting votes amongst their stars, Russell Westbrook and Kevin Durant sharing honors throughout the Thunder's victories, and James becoming almost too commonplace for the media to award again.
We saw legendary performances night-in and night-out from Paul four years ago. And this year might be like nothing we've ever seen before.
Season starts on Tuesday. Get excited.