Paul Martin's season ended because of concussion symptoms; wants to stay in Pittsburgh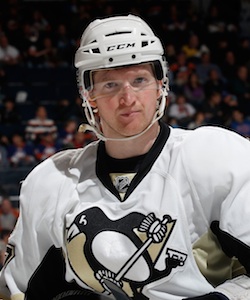 When Paul Martin sat out the final three games of the Pittsburgh Penguins playoff series against the Philadelphia Flyers, it was assumed he was being benched for his play on the ice. At the time, it seemed like a pretty reasonable conclusion to jump to. Like the rest of the players that took part in that six-game series, which was eventually won by the Flyers, playing defense appeared to be an option that few players -- Martin included -- were willing to take part in.

Keep in mind, the Penguins in those six playoffs games gave up as many goals -- 30 -- as the Stanley Cup Champion Los Angeles Kings did in 20 playoff games.
The Flyers weren't much better by allowing 26.

As it turns out, Martin's exit from the lineup wasn't really performance related at all. He was taken out of the lineup because he had been experiencing concussion-like symptoms.

In an interview with Josh Yohe of the Pittsburgh Tribune Review on Wednesday, Martin said he had been experiencing the symptoms throughout the first three games of the series but did not initially tell the team's training staff. When he finally did after the Penguins Game 3 loss in Philadelphia, a game that saw him take a big hit from Flyers forward Brayden Schenn, the team shut him down for the remainder of the series.
(This could be the Game 3 hit)
If there's a team in the NHL that knows the dangers of concussions and how they can impact a player and a season, you would have imagine it would be the Pittsburgh Penguins. After all, they were without their captain (and best player in the world when healthy), Sidney Crosby, for the better part of the past two years due to concussion-related issues. They also had to see time this season without their top defenseman, Kris Letang, after he suffered a concussion of his own (and returned to the game in which he suffered it) back in November. Based on that it's still pretty surprising to see a player initially ignore the symptoms and keep plugging along.
But now that Martin appears to be fully recovered he has an entirely set of new problems to worry about: trade rumors. And more importantly, whether or not he'll be a part of the team next season. As he told the Tribune, he wants to remain in Pittsburgh.
"Do I think the same team is going to be back in Pittsburgh next year? No. But I hope I'm one of the guys who is back. I want to prove to myself and to reestablish to everyone the player that I am. Ray [Shero] is a good GM. I can't control what he's going to do."
With a logjam of defenders at the NHL level and on the rise through the farm system, somebody is going to have to lose out on the numbers game on the Pittsburgh blue line. While Shero said earlier this week his intention is to keep soon-to-be free agent center Jordan Staal, he also acknowledged the fact that he could trade a defenseman or two this summer.
2012 NHL Free Agency
| | |
| --- | --- |
| | Free Agency starts July 1 |
More NHL coverage
Martin's name has been the one that's most often mentioned in the speculation that followed.

With still three years remaining on a contract that pays him $5 million per season, Martin has seemingly become public enemy No. 1 among the Penguins fan base. It wasn't uncommon for his name to be booed when announced as part of the starting lineup during home games as the season progressed, and when announced as a scratch prior to Game 5 against the Flyers there was an obvious cheer from the Consol Energy Crowd.

When a player joins a team as a free agent, and for the type of money that Martin signed for two years ago, people want to see a tangible result they can point to and feel like they're getting a return on that investment. Usually something that shows up in the NHL box scores or game sheets -- goals, hits, blocked shots -- or on the nightly highlight reels.

Martin's game does not provide that.
He's not going to score a ton of goals. He's not going to deliver crushing hits, play a physical game, and his style of play doesn't result in a large number of blocked shots (that's because when he's on the ice his team usually has the puck -- more on that in a second). But while his "box score numbers" (two goals, 23 assists, 117 blocked shots, only 24 hits) can leave you with an empty feeling, his underlying numbers would seem to suggest that he was a bit more valuable to the Penguins than he was given credit for during the season.

The table below shows the seven Penguins defensemen that appeared in at least 20 games this season, the level of competition they played against during 5-on-5 situations (Rel QoC), their relative Corsi rating (shot attempts for vs. shot attempts against during 5-on-5 play) and their average time on ice per game.

Players are ranked by the level of competition they played against.
The Penguins had four defensemen they leaned on heavily to play the toughest minutes: Letang, Martin, Brooks Orpik and Zbynek Michalek, with Letang and Martin playing the most minutes each night. Matt Niskanen, Deryk Engelland and Ben Lovejoy were all a bit more protected and there was a pretty sizable gap in the level of competition they were asked to play against.
At the end of the season the Penguins had four defensemen that were consistently able to keep the play moving up the ice and keep it away from their net compared to the rest their teammates.
Only two of them were able to do it against tough competition. One of them was Martin. He helps keep the play moving in the right direction, the Penguins control the puck more, outshoot, and outscore their opponents when he's on the ice.

There should be a lot of value in that, even if it doesn't always stand out in an obvious way on the ice. Is that worth $5 million per year in a salary cap league, especially when you're talking about a team that has to find a way to keep Sidney Crosby, Evgeni Malkin, Jordan Staal and Kris Letang over the next couple of years? I guess that's up for debate, but Martin's season wasn't the total loss it was so constantly perceived to be in Pittsburgh. No doubt, he had his down moments during the season, but so did every other member of the Pittsburgh blue line at various times, many of which seemed to get more of a free pass.
If the Penguins are going to look to move a defenseman this summer (and it sounds like they will) I'm not convinced Martin is the one they should be moving at this point.

With recent first-round picks Simon Despres and Joe Morrow -- young defensemen with offensive upside -- on their way to the NHL over the next few years, there's going to come a point where he is no longer needed in Pittsburgh.
But I don't think they're quite there just yet.
For more hockey news, rumors and analysis, follow @EyeOnHockey and @agretz on Twitter and like us on Facebook.