NHL Rumors: Penguins to pursue Zach Parise and Ryan Suter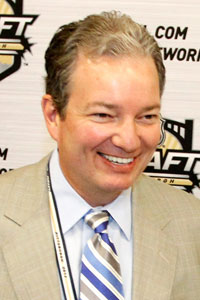 Ray Shero might be smiling even bigger after free agency begins. (Getty Images)
If Pittsburgh GM Ray Shero sees his plan come to fruition, he'll make the moves he made this weekend at the NHL Draft look like sloppy joes compared to Grade A angus beef burgers.
According to Rob Rossi of the Pittsburgh Post-Gazette, Shero is hardly done after his two trades this weekend at his team's arena, sending Jordan Staal to Carolina and Zbynek Michalek to Phoenix. Especially in the case of Staal, it wasn't something that Shero wanted to do, but the positive of it all is that the Penguins now have cap space. Now Shero is designing how to use it.
From Rossi:
Their plan is to pursue the two top players on the market, Nashville defenseman Ryan Suter and New Jersey winger Zach Parise, sources told the Tribune-Review this weekend at the NHL Entry Draft.

Team sources said Crosby soon will sign a new contract in the range of 10 to 13 years with an average annual salary of between $9 million and $10 million and will try to recruit Parise, his longtime friend, and Suter.

The Penguins' pitch will focus on the standard set by Crosby with his current deal, which is set to expire after the upcoming season. Crosby took less than market value — for him, the league maximum (20 percent of the salary cap) — to provide the Penguins room to build a championship nucleus.
OK Ray, you've got our attention now!
So let's see, Shero wants to try and put together a lineup that features Evgeni Malkin, Sidney Crosby, Parise, James Neal, Kris Letang, Suter and Marc-Andre Fleury among the rest of their players? That's a lineup that would win any Fantasy league you play in.
Of course, the Pens aren't there yet, in position to be able to potentially sign both players. According to Rossi they are still looking to move Paul Martin and his $5 million cap hit for each of the next three seasons.
Just because this is what Shero wants to do obviously doesn't mean it will get done. It's still asking a lot to be able to get the two most-coveted players on the market this summer. There is a ton of competition for both Suter and Parise, especially when you consider that many already have penciled in Suter to the Red Wings. But perhaps the chance to play on what would equal an All-Star team might be enough to entice these guys to Pittsburgh.
Maybe Shero was upset that his team bowed out in the first round of the playoffs this season despite their appearance as favorites. Or maybe he was watching the NBA playoffs and realized that piling together the best talent really is the best way to win in sports. It's not a guarantee, but it's the best route. The Miami Heat can attest.
What I wonder is if this somehow did come together, would the Pens become the NHL's version of the Heat?
For more hockey news, rumors and analysis, follow @EyeOnHockey and @BrianStubitsNHL on Twitter and like us on Facebook.