Canucks sign defenseman Jason Garrison for six years, $27.6 million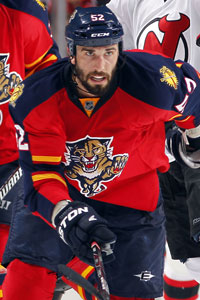 Garrison had 16 goals, 17 assists for Florida this season. (Getty Images)
It looks like the richest man from the first day of free agency is defenseman Jason Garrison, who landed himself a six-year contract worth $27.6 million from the Vancouver Canucks.
As of 8 ET, or eight hours after the bidding could begin, it was the biggest contract of free agency thus far. Garrison enjoyed a breakout campaign for the Florida Panthers this season, showing he has an absolute cannon from the blue line by scoring 16 goals to go with 17 assists. Nine of his goals came on the power play, getting top-unit minutes with Brian Campbell.
Garrison went undrafted out of college and landed with the Panthers on an entry-level deal for relative peanuts. Now he is returning to his hometown of Vancouver a rich, rich man.
A lot of people look at Garrison and get nervous, especially with that kind of length on a deal for a player who strikes some as a one-hit wonder. There's certainly a real risk as far as that is concerned. However Garrison's game before this season was unheralded as far as I'm concerned. He was playing solid defensive hockey and this most recent season just proved he is a solid two-way player.
Vancouver now has a player who can come in and try and give them some of what they have missed since Christian Ehrhoff left to join the Sabres last year. He will be relied upon to play minutes on the power play and let the shots boom from the blue line.
Considering where the market seemed to be heading for defensemen, like Dennis Wideman receiving $5.25 million per season from the Calgary Flames, the annual salary of $4.6 million for Garrison strikes me as a bit low. But that might be the tradeoff for Garrison getting the security of a six-year contract and returning to his hometown team.
OK, you can definitely say that.
Garrison left $ on table - was offered "Wideman money" elsewhere - but wanted to play for hometown VAN, which held firm on internal $ scale.

— Bob McKenzie (@TSNBobMcKenzie) July 2, 2012
There will be a lot of hate for this contract because of the relatively short track record for Garrison but I'll put my claim in now ... I think this is a really good deal for Vancouver. Garrison's advanced stats show that he's a very solid player before you factor in the offense. Sure, he benefitted from playing with Campbell, but make no mistake, Campbell benefitted from playing with Garrison, too. Soupy wasn't as strong this season when Garrison wasn't on the other side.
The big criticism, beside the short track record? Garrison doesn't use his big frame enough despite being well represented in the hits category the past two seasons in the NHL. I guess that fits in well with the rest of the Canucks' reputations, doesn't it?
But hey, Garrison is awfully happy about it, and why shouldn't he be? Everybody wants to play at home.
Super excited about playing in Vancouver!! Thanks to all my friends and family! Also thanks to the Florida Panther organization & fans

— Jason Garrison (@JasonGarrison52) July 2, 2012
More from Eye on Hockey
Free Agency Tracker
Panthers sign Garrison replacement Kuba
For more hockey news, rumors and analysis, follow @EyeOnHockey and @BrianStubitsNHL on Twitter and like us on Facebook.