NHL Rumors: Hurricanes back out of Rick Nash talks after Blue Jackets' demand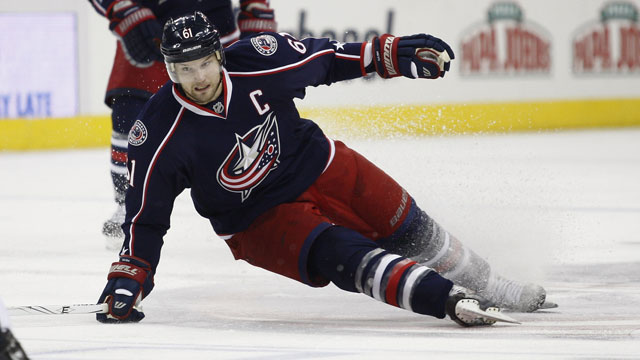 Scott Howson refuses to let the asking price for Rick Nash slip. (Getty Images)
Scott Howson is the kind of guy who expects a lot from other people. In a lot of aspects of life, that's a great attribute. That type of attitude has probably helped him get to where he is now, general manager of the Columbus Blue Jackets.
Right now, though, that demanding personality is just getting laughable.
For months on end the Blue Jackets have been trying to accomodate the request of their star captain Rick Nash and trade him away. Here we are on July 5 and Nash is still a member of the Jackets, his request not yet fulfilled. Or even close to being fulfilled, really.
Maybe that's because Howson has been forcing teams to back out of the derby with some very high trade wish lists. Like the darkhorse Carolina Hurricanes according to TSN's Darren Dreger.
Carolina Hurricanes are no longer persuing Rick Nash. Cost way too high. CBJ believed to be after Jeff Skinner. Non-starter.

— Darren Dreger (@DarrenDreger) July 5, 2012
Set your sights on the stars, right Howson? There is a reason why people have never made it to the stars -- well, besides the fact that they are really freakin' hot. But the proverbial ones, they're too often unattainable. I mean, asking for Skinner and presumably more in return for Nash with a straight face? Assuming Hurricanes GM Jim Rutherford remained on the phone long enough, I'm sure he heard Howson snickering a little, right?
Let's compare the two players, shall we? Nash is 28 years old, Skinner is 20. In the last two seasons Nash has 62 goals and 125 points in 157 games. Skinner had 51 goals and 107 points in 146 games. Keep in mind those were the first two seasons of Skinner's career. Oh, and Rick Nash has a cap hit of $7.8 million for each of the next six seasons while Skinner has a cap hit of $1.4 million for one more season before becoming a restricted free agent.
And as I said I can only assume, but based on previous reported trade demands, that was just part of what Howson wanted in return for Nash. Even as a straight up offer the Hurricanes aren't going to take it.
At some point it's going to have to happen, Howson will have to realize his asset isn't worth as much as he thinks. Just because Nash has the fifth-highest salary cap hit in the NHL doesn't mean Nash is the fifth-most desired player in the league. I know he needs to get an excellent return for Nash, but his definition of excellent must come down otherwise he's going to be stuck with a disgruntled captain.
He's clearly in between a rock and a hard place. There is a lot of pressure on Howson to get the right return for Nash, although I'd argue that's almost impossible to do. Look how often star players are dealt, the return is hardly ever commiserate. But now by chasing such quality packages to come to Columbus for Nash, he has set the bar very high. And has been clearly demonstrated to this point, he can't clear it.
Now, going back a step or three, where did the Hurricanes come from as being real contenders here? Well because Nash has a no-trade clause in his contract, he does have some power. He submitted a list to Howson back before the in-season trade deadline and rumored to be on that list were the Flyers, Penguins, Rangers, Sharks and Red Wings. But as reported on Wednesday by Aaron Portzline of the Columbus Dispatch, the 'Canes were sneaking into the picture.
The Dispatch today confirmed that the Pittsburgh Penguins are on Nash's approved list and have been from the start. The list, then, as we know it: Detroit, New York Rangers, Philadelphia, Pittsburgh, San Jose. This is the same list Nash presented the Blue Jackets last winter, but there have been hints lately of a willingness on Nash's part to expand it, perhaps for Carolina.
You can probably forget it now. At this rate there's no need to ask Nash if he would consider a trade to Carolina.
In the words -- I'm paraphrasing slightly here -- of Rachel Phelps: "Cross them off, then!"
For more hockey news, rumors and analysis, follow @EyeOnHockey and @BrianStubitsNHL on Twitter and like us on Facebook.