Scott Howson wants NHL forwards in a Rick Nash trade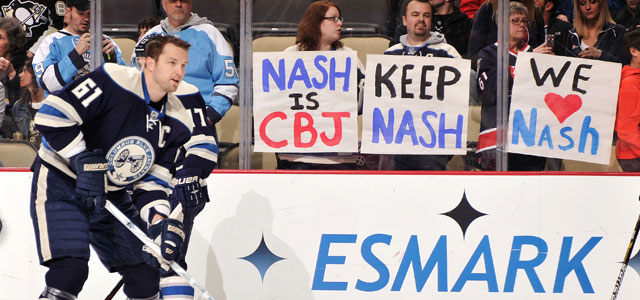 The Columbus Blue Jackets want NHL forwards in any Rick Nash trade.(Getty Images)
Rick Nash is still a Columbus Blue Jacket and there doesn't seem to be an end to the saga coming in the near future.
The problems with a deal being completed are well documented at this point. The Blue Jackets have set a high price on what they're looking for in return for their best player, and he has a short list of teams he's willing to OK a trade to, which obviously limits the options for everybody.
General manager Scott Howson spoke with TSN's Gino Reda on Friday and talked about the situation, specifically the type of return he wants. His No. 1 target? NHL forwards.
"If we do complete a trade, we're trading out a 30 to 40 goal scorer," Howson told Reda. "Defense is probably the strongest part of our team if we look at it today, so we're looking to get some NHL forwards back first and foremost."
He continued: "I have a value that I've placed on Rick and that our whole organization has placed on Rick. He's an elite player, he's been a tremendous ambassador for our franchise and our city and we're very comfortable with the value we've placed on him and until we get that value, we're going to keep working away at it."
The rumored asking prices from the Blue Jackets throughout this, going all the way back to the trade deadline, have been pretty outrageous, including one involving the Carolina Hurricanes that had Columbus asking for Jeff Skinner (he would certainly fit the bill of "NHL-ready forward").
2012 NHL Free Agency
More NHL coverage
The Hurricanes wisely backed out of the conversation at that point.
When Howson is talking about defense as the strength of the team it's all relative. When you finish with the worst record in the league, allow the third most goals and the sixth most shots there probably aren't many "strengths," including defense. The Blue Jackets do have a lot of money invested in James Wisniewski (five more years and $27.5 million remaining) and Jack Johnson (six more years and $26.1 million remaining).
They also added veteran Adrian Aucoin this summer in free agency.
Johnson, of course, was acquired last season, along with a conditional first-round draft pick (which the Blue Jackets will receive in 2013) in the trade that sent Jeff Carter to the Los Angeles Kings.
Wisniewski and Johnson are the big money and big name guys on the blue line, but an argument can be made that their best overall defenseman last season was actually Nikita Nikitin, who just signed a two-year, $4.2 million contract earlier this summer.
Teams that are reported to be on Nash's list include Detroit, New York Rangers, San Jose, Pittsburgh and Philadelphia.
When you combine Columbus' asking price, the amount of money that is still owed to Nash (fifth largest salary cap hit in the league), and his declining production in recent years it's not hard to see why we're still waiting for a deal. I've said it before, but any of the teams mentioned above that are looking for a top-line forward should be making their calls to Anaheim about the potential availability of Bobby Ryan (younger, cheaper against the cap, probably better) before they start knocking on Columbus' door regarding Nash.
For more hockey news, rumors and analysis, follow @EyeOnHockey and @agretz on Twitter and like us on Facebook.