Michigan vs. Indiana: A complete breakdown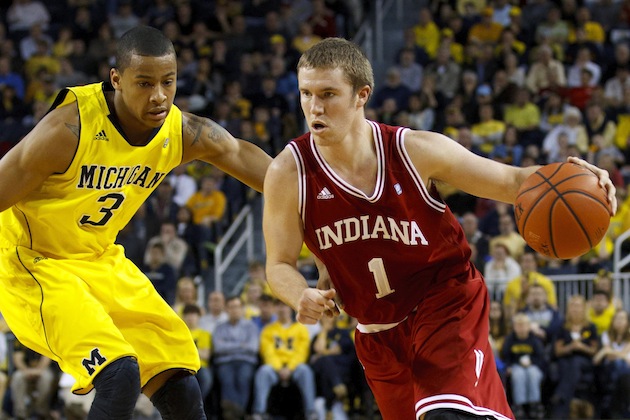 Both Trey Burke and Jordan Hulls will play major roles in Saturday night's contest. (US Presswire)
Is it the Game of the Year? Maybe not, since the rematch on March 10 (and again in the conference tournament?) could be more meaningful -- but Michigan's showdown with Indiana on Saturday night is perhaps the most anticipated game of the season so far.
Indiana entered the season atop the polls, but a couple of close slip-ups to Butler and Wisconsin have dropped the Hoosiers all the way to No. 3. Michigan has only one defeat on the season, at Ohio State in mid-January. The Wolverines are ranked No. 1 in the country. Both teams are supremely talented and are legit national title contenders, and Saturday night could be the time to make a statement.
With all the talent on stage, let's go position-by-position.
POINT GUARD: Trey Burke vs. Yogi Ferrell
This will be an interesting battle, although I highly doubt Burke will be defended by Ferrell. Tom Crean will likely put Victor Oladipo on Burke, as Oladipo is long, athletic and one of the most active perimeter defenders in the country. Burke has been arguably the best player in the country this season, and essentially unguardable at times. Ferrell is coming on strong lately, putting up 12.3 points in his last three games. Once he gets out in transition, he's difficult to slow down. If Ferrell does guard Burke, he can't get caught up in screens. EDGE: Michigan
SHOOTING GUARD: Nik Stauskas vs. Jordan Hulls
Two of the best shooters in the country going head-to-head. Stauskas has been consistent throughout the season as a scorer at different levels, knocking down nearly 50 percent of his 3-pointers and better than 80 percent of his free throws. He's also shown the ability to go off the bounce and score in the lane. Meanwhile, Hulls has provided an outside threat and an option for drive-and-kicks. Hulls is also a good passer who can find teammates. He's been a defensive liability, though. EDGE: Michigan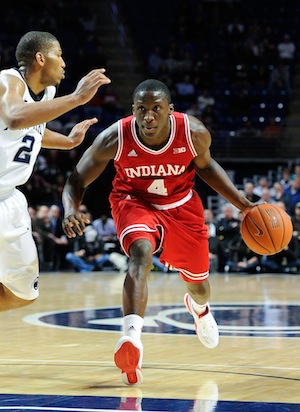 Oladipo has to slow down Burke. (US Presswire)
SMALL FORWARD: Tim Hardaway Jr. vs. Victor Oladipo
As I said above, these players probably won't be matched up at both ends of the floor. Hardaway has been an excellent second option for the Wolverines, improving his efficiency on the offensive end after struggling last season. He's outstanding in transition and can really finish at the rim. Oladipo is simply a game-changer at both ends of the floor. His performance against Michigan State really increased his Player of the Year profile. Hardaway Jr. can't let him get loose early. EDGE: Indiana
POWER FORWARD: Glenn Robinson III vs. Christian Watford
A couple of versatile forwards who can create matchup problems with their ability to knock down shots from the perimeter and go off the dribble. Robinson has gone through stretches where he has really asserted himself on the offensive end, and he needs to do that against Indiana. He's shooting better than 60 percent from the field. Watford has been up and down this season, especially in big games. With that said, he's scored in double-figures in 11 straight games leading into the weekend. EDGE: Even
CENTER: Jordan Morgan/Jon Horford vs. Cody Zeller
This is where Indiana has a major edge. Morgan has been out with an ankle injury he suffered last week, and he is questionable for Saturday night's game. Even if he plays, it's up in the air whether he will start -- and how effective he will be. Horford could get the start if Morgan sits. Horford had 10 points and seven boards last game. Zeller is one of the best players in the country, but he needs to dominate from the opening tip. Against Michigan State, he was invisible for long stretches. He can beat Horford down the floor. EDGE: Indiana
BENCH
Both teams have gone to the bench less and less in recent weeks, although Michigan's reserves might play a big role on Saturday night -- especially if Morgan is out. Mitch McGary brings energy and rebounding to the floor, and he can go nonstop for key stretches. Spike Albrecht and Caris LeVert provide spot minutes for the perimeter players. Indiana has one of the nation's best sixth men in Will Sheehey, a double-figure scorer. Sheehey's toughness could be a major factor in this one. Remy Abell is a solid defender, while Jeremy Hollowell and Maurice Creek are used for offensive punch. Hanner Mosquera-Perea is the primary interior reserve. EDGE: Indiana
KEYS TO THE GAME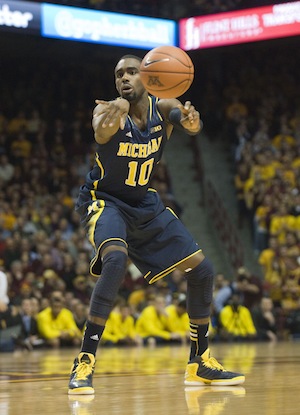 Hardaway might have matchup advantage. (US Presswire)
Michigan:
Winning the transition battle – Both teams love to get out and run, although Michigan is more of an opportunistic running team. The Wolverines have to get easy points, while also making sure Indiana doesn't get going early and often.
Limiting second-chance points and free throws – Indiana is one of the best offensive rebounding teams in the country, and also gets to the foul line as well as anyone. Michigan needs to limit both of those aspects.
Make Indiana guard in the half-court – Michigan has the edge in the head-to-head battles on the perimeter, and the Wolverines need to take advantage. Hardaway and Stauskas have to knock down shots.
Indiana:
Man or zone? – Indiana doesn't look as effective when it goes into zone defense, but the perimeter matchups don't look great against Michigan. Can Ferrell and Hulls guard Stauskas and Hardaway?
Slowing down Burke on screens – Michigan gets most of its half-court defense off of ball-screens for Burke. Teams still have not figured out how to defend him, especially when the Wolverines are knocking down shots.
Establishing Zeller early – Zeller made plays down the stretch against Michigan State, but needs to be a factor from the opening minutes. Michigan doesn't have an answer for him.
BOTTOM LINE
Two of the most talented starting fives in the country will be on display Saturday night in Bloomington. It's going to be one of the more entertaining games we've seen in awhile, as both teams are extremely efficient offensively. Both move the ball effectively and love to get out in transition when the opportunity arises. In the end, I think it comes down to homecourt advantage. Indiana is at home, and the Hoosiers will get that extra edge down the stretch.