Here's why we ranked Gonzaga No. 1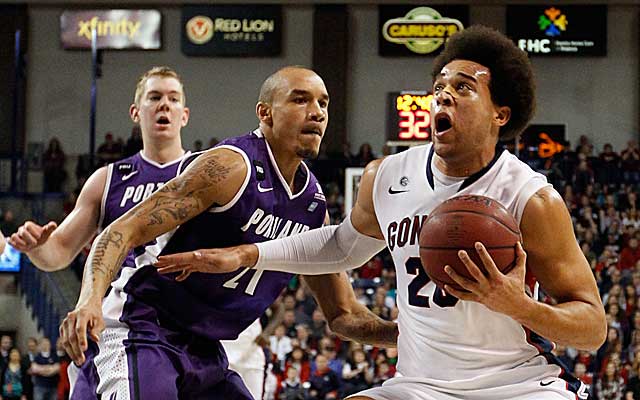 Gonzaga is No. 1 in our Top 25 (and one) for the first time in school history.
And the Zags deserve it.
And they'll almost certainly be atop the AP and coaches polls on Monday, too -- although I suspect Duke will also get a few first-place votes, which is fine. To be clear, I have no issue with people moving Duke to No. 1 given that Ryan Kelly's return to the Blue Devils means Mike Krzyzewski now has a lineup with which he's undefeated. But Jeff Goodman and I still decided to go with Gonzaga No. 1 because, well, why the hell not?
More on college basketball
Analysis

Related links
More college hoops coverage
Like I said, the Zags deserve it.
And, yes, I think they've earned it on the court.
I realize the argument against Gonzaga is that it plays in the WCC and thus couldn't have this record if it played in the Big Ten, and I agree that's almost certainly true. But I'm fundamentally against dismissing greatness based on little more than conference affiliation because a school like Gonzaga can't help that it's in the WCC. All Mark Few can do to offset that is schedule as aggressively as possible outside of the league and then do well against that schedule, and he did both this season.
Gonzaga played non-league games with Kansas State, Oklahoma, Oklahoma State, Butler, Illinois, Baylor, West Virginia and Davidson, and the Zags finished the non-league portion of their schedule with a 13-2 record. They went 5-0 against the Big 12 -- and not just the bottom of the Big 12. That 5-0 mark came against the schools currently first (Kansas State), third (Oklahoma State), fourth (Oklahoma), sixth (Baylor) and seventh (West Virginia) in the Big 12 standings, and four of the wins were by at least 15 points. Also worth noting: Gonzaga is 3-0 against top-25 RPI schools, 5-2 against top-50 RPI schools and 11-2 against top-100 RPI schools with zero losses outside of the top 50.
The worst loss? That was a loss to an Illinois team that made 11 3-pointers and got 35 points from Brandon Paul, and it's not like Illinois stinks. The Illini have also beaten Indiana, Ohio State, Butler and Minnesota. The other loss? That was a loss to Butler at Hinkle on a fluky steal and runner at the buzzer. That was just ... unfortunate.
Beyond that, the Zags are perfect.
They finished 16-0 in the West Coast Conference.
Granted, those victories mostly came against bad teams. But isn't there something to be said for never losing to bad teams in a year in which Michigan has lost to Penn State and Kansas has lost to TCU? Nobody is promised perfection against bad teams, you know?
So, yes, Gonzaga is No. 1 in our Top 25 (and one) for the first time in school history.
And the Zags deserve it.
Because they've earned it on the court.