Georgia RB Isaiah Crowell dismissed after arrest on felony weapons charges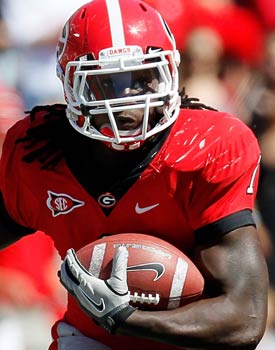 Georgia running back Isaiah Crowell has been dismissed from the Bulldogs team after he was arrested early Friday on felony weapons charges.
Georgia announced the decision to dismiss Crowell from the team Friday afternoon. Crowell was suspended for one game in 2011 and for one quarter on two other occasions during his freshman season for unspecified team issues.
"We have a dedicated and committed group of men who are working hard to prepare for the coming season," Bulldogs coach Mark Richt said. "Our total focus will be directed toward the team and this effort."
The Columbus Ledger-Enquirer reported Crowell's arrest, which resulted from a vehicle checkpoint on East Campus Road and Greene Street on Georgia's campus around 2:20 a.m.

The 2011 SEC Freshman of the Year was arrested on charges of carrying a weapon in a school zone and having an altered ID mark, both felonies. The weapon was a 9 mm handgun with its serial number altered.
Crowell was also charged with misdemeanor possessing/carrying a concealed weapon.
The most serious charge involves the school safety zone. The Georgia campus would be considered such an area. According to the County website, the felony is punishable by "not less than two nor more than ten years." If convicted, Crowell could also be fined up to $10,000 on that charge.
Per Dawgs247 reporter Gentry Estes, Crowell posted his $9,500 bond and was released from the Athens-Clarke County Jail at 12:44 ET.
"Things happen," Crowell told DawgPost.com reporter Fletcher Page outside the jail. "I don't really have a comment right now."
Page reported that per the arrest report four fellow Bulldogs were passengers in the car at the time of the arrest: freshmen signees Josh Harvey-Clemons, Blake Tibbs and Sheldon Dawson, and rising sophomore Quintavius Harrow. All four were released at the scene.
According to the Ledger-Enquirer, officers reported the smell of marijuana coming from Crowell's car (a 2005 Mercury Grand Marquis) but did not find any during a search of the vehicle. The search did result in the discovery of the handgun underneath the driver's seat. Crowell told police he did not own the gun and did not know it was in the vehicle.
Crowell ran 185 times for 850 yards and five touchdowns in his freshman season, despite missing time due to both an ankle injury and off-field issues.

The impression coming out of the Bulldogs' spring practice was that Crowell had put the off-field issues behind him and was poised for a strong 2012 season. A five-star recruit coming out of Carver-Columbus (Ga.) High School, Crowell had bulked up to 220 pounds and promised to be a better teammate.
"My first goal is to be a good teammate, help my team get to the national championship," Crowell said during spring practices in March. "My second goal, I'm trying to run for the Heisman."
Eye on CFB blogger Jerry Hinnen and The Sports Xchange contributed to this report.