USC coach Lane Kiffin has decided not to vote in coaches poll this season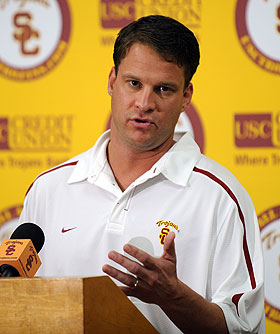 Southern California coach Lane Kiffin was the center of controversy after it was discovered that he picked the Trojans No. 1 in the preseason coaches poll. Kiffin has since decided to give up his position as a member of the voting panel for the coaches poll this season.

"It is an opportunity and responsibility that I do not take lightly," Kiffin said in a letter to USA Today and Grant Teaff -- executive director of the American Football Coaches Associaion. "However, I find it necessary to relinquish my voting status."

Kiffin told reporters last week that he "would not vote USC No. 1," after hearing that Arizona coach Rich Rodriguez had done so in the initial preseason ballot. Southern California received 19 first-place votes in the balloting, and finished No. 3 in the poll.

USA Today has stated that when a voter volunteers false or misleading information about his vote, the organization will correct the record "to protect the poll's integrity." The decision to release the information was not well received by USC. A school spokesperson issued a statement on Friday accusing the organization for a "conflict of journalistic interest."


"USA Today sent a June 4, 2012, letter to coaches who agreed to vote in its college football poll stating that, except for the final poll of the regular season, 'votes for all other polls will be kept confidential by USA Today.'

"The fact that the leadership of the American Football Coaches Association, which tasks USA Today to administer its poll, joined with the poll administrators from USA Today to decide to breach that confidentiality by providing to a reporter a coach's vote in its preseason poll is disappointing and attacks the integrity of the poll. Further, that the reporter who was given this information represents the very organization that conducts the poll is a conflict of journalistic interest."

As part of the BCS formula, the coaches poll will still play a pivotal role in determining at least the next two BCS national champions. The integrity of the coaches -- who Matt Hinton points out have consistently voted in a way to favor their own teams -- has been a point of contention particularly in the recent years. Even the conference commissioners in charge of recommending the new four-team playoff beginning in 2014 appeared ready to move on from the poll, adopting a selection committee approach instead.

While Kiffin attempted to clarify his statements - stating that "he would not" was different than "he did not" vote for the Trojans - the fact that he picked the Trojans first should not anger or upset anyone. While they finished No. 3 in the ballot, USC had the second-most first-place votes in the preseason poll. Clearly there are plenty of voters who can rationalize with Kiffin's decision.

One interesting idea, proposed recently by our own Tony Barnhart, is to make every Coaches Poll vote public this season. The Associated Press votes are made public, and it is possible that coaches would be more active in the voting process if they were forced to defend their decisions on a weekly basis. That kind of action could lead to more coaches withdrawing from the panel, but it seems to be the only way to truly introduce some kind of integrity to the process.

Keep up with the latest college football news from around the country. From the opening kick of the year all the way through the offseason, CBSSports.com has you covered with thisdaily newsletter. View apreview.

Get CBSSports.com College Football updates on Facebook