Rockies want Ubaldo Jimenez suspended after 'gutless' act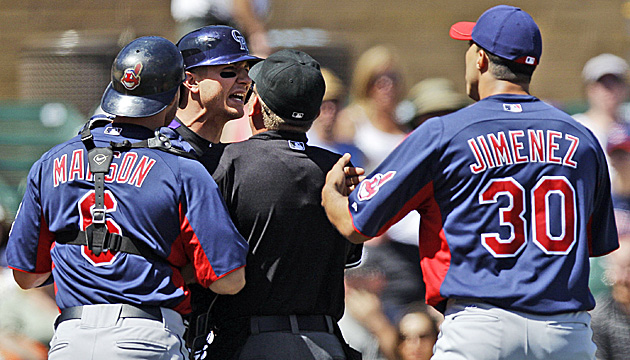 As my
colleague Dayn Perry pointed out late Sunday night
, some bad blood between former teammates
Troy Tulowitzki
and Ubaldo Jimenez seems to have boiled over in spring training play. Jimenez hit Tulowitzki in the elbow with a pitch, causing both benches to clear and the two players to exchange words. This came after some
verbal sparring between the two
-- also with
Carlos Gonzalez
on Tulo's side -- earlier this spring.
Tulowitzki will be sidelined just a few days with swelling,
as X-rays on his elbow came back negative
. Still, the incident did not sit well with the
Rockies
, specifically manager Jim Tracy, who called the pitch "the most gutless act I've seen in 35 years in the game." (
MLB.com
)
Further, Tracy wants Jimenez suspended.
"To do something like that and then walk down off the mound, if there's any suggestion whatsoever that the ball got away, I don't want to hear any of that," an angry Tracy said (
MLB.com
). "He should be suspended. I'm going to be very disappointed if he doesn't get suspended, because he deserves to be suspended."
Shockingly -- please note sarcasm -- Jimenez did say the pitch just got away from him. And the fuming Tracy wasn't yet done:
"Are you [kidding] me? Five days before Opening Day [Friday at
Houston
] and you're going to take a potshot like that. It was the worst I've ever seen. I've lost all respect for him. That's a very difficult thing for me to say, with all the players that I've had the privilege to manage over the years." (
MLB.com
)
There were several more quotes from Tracy, but it was pretty much the same. He wants a suspension and has no remaining respect for his former ace, who was traded to the Indians just before the trade deadline last season after a lackluster several months. In fact, Tracy seemed to join Tulowitzki and Gonzalez in the assessment that Jimenez "shut down" on the Rockies last season.
One item of interest: According to CBSSports.com's Jon Heyman, MLB commissioner Bud Selig was at the game. Heyman has heard a suspension is a "consideration" but not a sure thing.
For more baseball news, rumors and analysis, follow @EyeOnBaseball on Twitter, subscribe to the RSS feed and "like" us on Facebook.