Video: Umpire Jeff Kellogg tackles fan on the field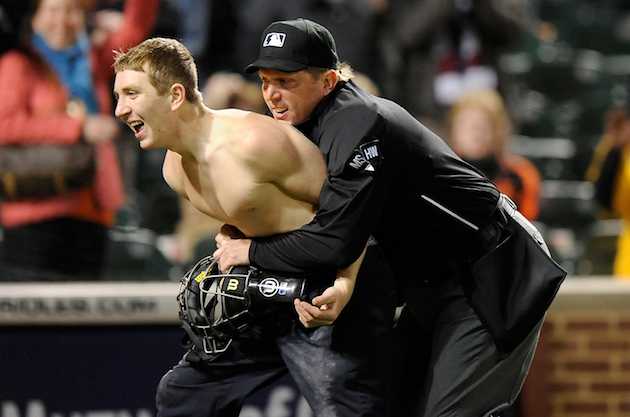 Next time you heckle the ump, you may want to make sure it's not Jeff Kellogg.
Here's what Kellogg did Friday night to one fan in Baltimore:
For the fourth time already this young season at Camden Yards, a fan ran out onto the field, at least by the count of the
Baltimore Sun
's Dan Connolly.
Because the Baltimore City Police officers are instructed to seal around the trespassers, it gives those on the field plenty of time to work the crowd. Players,
Kurt Suzuki
told the
San Francisco Chronicle
, have been told not to get involved with fans on the field, so they don't do anything either.
Kellogg, apparently had enough. He didn't wait for the police to get the fan, instead taking matters into his own hands.
According to the Sun
, Kellogg declined comment on the incident. But the
Orioles
'
Adam Jones
didn't.
"That was awesome. I told [Kellogg], 'That's awesome,'" Jones
told the newspaper
.
Jones even went on to say he wished people got tased when they ran onto the field,
like the fan in Philadelphia a couple of years ago
.
"You don't run on the field and just disturb a game that's going on. It's private property, and I'm sick and tired," Jones said (
Baltimore Sun
). "I don't like the way the cops go after them here. I know it's not their call. I know the rules; they want them to create a circle or seal. Those kids are running all around those guys. No disrespect to the cops, but go get this dude, put your knee in his throat and tie his [butt] up, simple as that. It's so annoying. I wish I can go out there as a player, but we can't."
A's outfielder
Josh Reddick
said it was nothing new to see fans on the field at Baltimore.
"That was hilarious, but I'm surprised how slow security is here," Reddick said (
San Francisco Chronicle)
. "It was the same way when I was here with Boston."
On opening day, a fan dressed in nothing but a cape Batman underwear ran around the field, eluding cops long enough to create a scene.
He was ultimately banned, but not prosecuted
. Perhaps that highly publicized incident garnered the wrong response. Tasing is likely a little much, but, at some point, there has to be a deterrent, and prosecution of trespassing may be the right way to go.