Dewayne Wise credited with catch, even though he didn't have the ball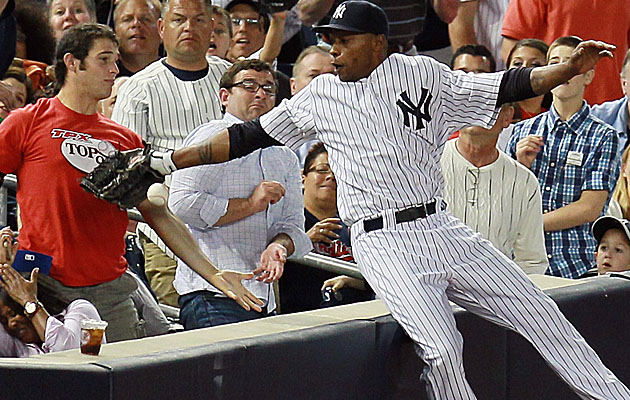 Indians third baseman Jack Hannahan was ejected from Tuesday night's game against the Yankees. He obviously saw the replay of Dewayne Wise's "catch" into the left-field stands of Yankee Stadium.
Wise sprawled into the stands and the ball clearly hit the heel of his glove before going down into the crowd. The umpire ran out to check on Wise and then called the batter -- who happened to be Hannahan -- out. I have no idea what the umpire was checking for, since Wise did not have a baseball in his glove when the umpire made the call.
MLB.com has the video, which includes the Yankees announcers observing that Wise did not catch the ball. It's tough to tell if the call impacted the game, as the Yankees had a 6-0 lead at the time. There was a runner on base and the "catch" ended the inning. The Yankees did end up only holding on to win 6-4. The main point isn't really to say that this cost a team a game, it's the principle of the situation. The calls should be correct.
At this point, we've been over the argument so many times, there's only need to say two words: Expand replay.
For more baseball news, rumors and analysis, follow @EyeOnBaseball on Twitter, subscribe to the RSS feed and "like" us on Facebook.