Ozzie Guillen keeps going after Bryce Harper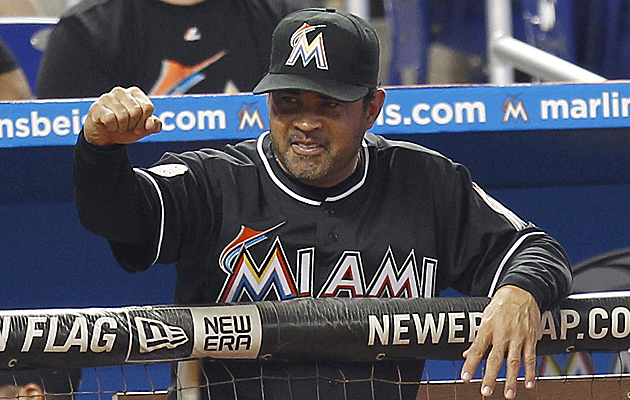 Ozzie Guillen had some more strong words for Bryce Harper on Monday. (Associated Press)
Marlins manager Ozzie Guillen, much like Red Sox manager Bobby Valentine, just can't help himself. Sunday, there was a bit of a tiff involving Guillen and the Nationals 19-year-old phenom Bryce Harper. The blow-by-blow account was covered Sunday in this space, but it boiled down to this:
• In Harper's first at-bat, he had too much pine tar on his bat, according to Guillen. So the Nationals made Harper change bats. As he approached home plate for his second at-bat, Harper held the bat toward Miami's dugout, as if to show Guillen this one had less pine tar.
• Guillen screamed in anger from the dugout and even picked up a bat to mimic Harper's actions.
• After the game, Guillen called Harper unprofessional, and Harper would only say Guillen is "a great manager."
Monday, Guillen was given the chance to reassess the situation, only he came after Harper even harder.
"I like this kid," Guillen said (csnwashington.com). "I think this kid is good for baseball. He's going to be better. But if this kid continues to do that [stuff], he might not make it. Because they're going to fool around with the wrong guy, and that wrong guy will kick his ass. He might not make it."
Don't worry, that isn't a direct threat from Guillen. He knows Harper could take him. In response to Nationals manager Davey Johnson saying Guillen was just trying to intimidate Harper, Guillen said the following (csnwashington.com):
"I wish this happened two years ago. Then I would've told Davey what I feel. And I would've told this kid what I feel. Intimidate? Pfft. I never intimidate people. For what? Do I look like I intimidate anybody? I swear, if we fight, that kid will kick my ass. You think I'm going to intimidate him?"
I guess that's a good point, although it's hard to tell anymore in the South Beach Soap Opera.
For more baseball news, rumors and analysis, follow @EyeOnBaseball on Twitter, subscribe to the RSS feed and "like" us on Facebook.