Pete Rose is getting a reality show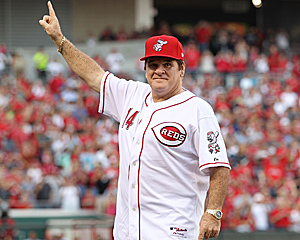 The hit king is getting a reality show.(Getty Images)
I guess it was only a matter of time for something like this to happen. With baseball's all-time hits leader Pete Rose exiled from baseball for life, stuck in Las Vegas gathering autograph and appearance fees, he'll turn to TLC to stay in the spotlight. Yes sir, it's a reality series!
According to Inside TV on ew.com, the 71-year-old Rose and his much-younger fiancee Kiana Kim -- who has posed for Playboy, by the way -- will soon start shooting a show with a working title of "Pete Rose and Kiana Kim Family Project."
What are we in store for?
Well, the report says cameras will follow Rose taking the family -- which includes Kim's two children -- to the Hall of Fame (oh man, that's sure to open a huge can of worms here, isn't it?). Also, Kim's getting a breast reduction, so that'll be in there, too. Wonderful (please sense the obvious sarcasm).
Here's more from Pete himself, via ew.com:
"She's got younger kids and I've got [four adult] kids, and we go through the same things everybody else does: taking the braces off, making sure they get their education and they go to basketball practice or acting class. It's not going to be classless -- like it seems like a lot of reality shows aren't really reality, but our reality show is going to be funny, entertaining, and real."
Well, I'm glad we're getting the non-classless guarantee, but it overall sounds pretty boring. Rose also noted that he wants to clear up public perception about his personality, which might be a worthwhile pursuit for him on a personal level. I'll pass on viewing the show, but -- as I like to say in nearly all aspects in life -- to each his own.
Commence the Hall of Fame complaining/comments/debate in the comments section ... now!
For more baseball news, rumors and analysis, follow @EyeOnBaseball on Twitter, subscribe to the RSS feed and "like" us on Facebook.