Blue Jays' John Farrell says he's 'unequivocally' committed to Toronto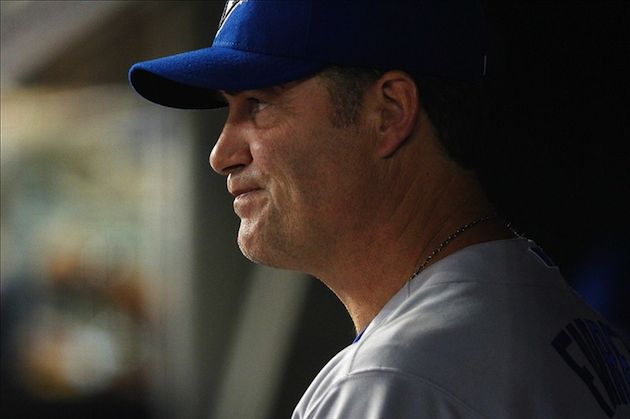 John Farrell has a weekend of the same questions ahead of him. (US Presswire)
With the soap opera that is the Red Sox, former Red Sox pitching coach and current Blue Jays manager John Farrell already has seen his name pop up time and time again as a logical successor to Bobby Valentine. On Tuesday, Farrell said he is "unequivocally" committed to the Blue Jays.
Like Valentine, Farrell has one year left on his contract. Unlike Valentine, he's likely to be invited to fulfill that last year on his contract.
Speaking with Shi Davidi of SportsNet.ca, Farrell reiterated his commitment to Toronto:
"My focus is clearly here with the Blue Jays, I'm under contract, obviously," he said. "I can understand that there can be a natural connection because I've worked there in the past, but my focus and my commitment has been and is here, unequivocally."
The Blue Jays do have a rule -- believed to have been put in place because of previous interest by the Red Sox in Farrell -- that doesn't allow a team employee under contract to leave for the same job with another team.
That hasn't stopped the Red Sox from trying. According to Rob Bradford of WEEI.com, the Red Sox tried twice to trade for Farrell last season, and could try again this offseason.
Davidi also noted that Blue Jays general manager Alex Anthopoulos has treated the length of Farrell's contract as a state secret, on par with the combination to the safe at Fort Knox (or at least its Canadian equivalent). Farrell did confirm that his contract expires following next season, even if Anthopoulos has said he wouldn't announce an extension if it were signed.
This should be the end of the Farrell-to-Boston speculation, but with the Blue Jays headed to Boston to start a three-game series on Friday, it will likely be a hot topic there.
For more baseball news, rumors and analysis, follow @EyeOnBaseball on Twitter, subscribe to the RSS feed and "like" us on Facebook.