Barry Zito gets the nod for Giants in Game 4 of NLDS*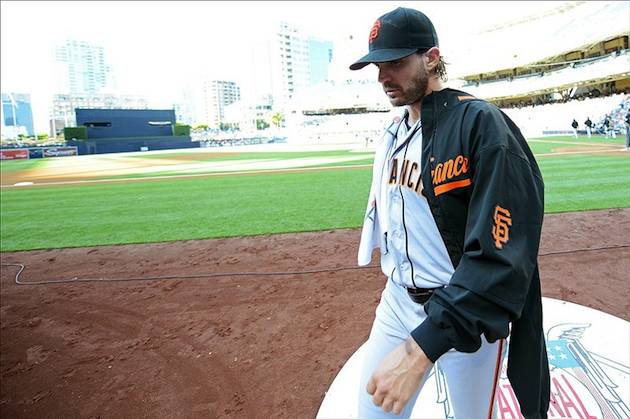 Barry Zito was 15-8 with a 4.15 ERA during the regular season, the Giants won each of his 11 starts since Aug. 7. (US Presswire)
CINCINNATI -- If the Giants are able to force a Game 4 in the National League Division Series here on Tuesday, Bruce Bochy is resting the fate of the 2012 season squarely on the shoulders of left-hander Barry Zito. Bochy said Monday that Zito would start Game 4 if the Giants win Game 3.
"I think you have to look at what Barry's done, how we have played the last 11 games that he's pitchded and he's really just done a terrific job for us," Bochy said. "He's won some big games. He's been really on top of his game, and I think he's earned this. We all do. I'm glad to be able to tell Barry that he's getting the start. When you win your last 11 games that a pitcher starts, it's a pretty good thing. So that's why he's getting the start."
Since Aug. 7, the Giants won each of Zito's 11 starts, with the lefty going 7-0 with a 3.92 ERA. Despite his stellar record, teams are still hitting .293/.336/.443 against him in that stretch. Overall Zito's 15-8 with a 4.15 ERA. His 15 wins are his most since 2006, his final season in Oakland.
Zito has faced the Reds twice this season, going 0-1 with a 1.50 ERA in two starts against Cincinnati. He earned a no decision in his only start at Great American Ball Park this season. In his career, he's 0-2 with a 6.10 ERA in six starts here.
The Reds are primarily a right-handed hitting team, with Joey Votto and Jay Bruce the only lefties in the lineup.
Zito said Bochy didn't inform him of the move until Monday.
"We were in a holding pattern in the bullpen all weekend and we were just waiting to hear what happened," Zito said.
Zito was in the bullpen on Sunday and when he didn't pitch, he threw a bullpen session after the game in preparation for the possible Game 4 start.
Bochy said he considered bring back Matt Cain on short rest but decided against it because of Zito's recent success.
"Yeah, sure, we put thought in it. But this is more a case with rewarding Zito with how he's been pitching and the job he's done and I think he's earned it," Bochy said. "Instead of pushing a starter back on short rest -- and there is a history of that not working too well -- and this would have been the first time that we have asked Matt to do this this year. We decided to go ahead and go with Barry."
He also noted that Tim Lincecum would be available to pitch in relief in all three possible remaining games of the series. Lincecum threw two scoreless innings in Game 2 on Sunday.
For more baseball news, rumors and analysis, follow @EyeOnBaseball on Twitter, subscribe to the RSS feed and "like" us on Facebook.