Who's Got the Edge: Cardinals or Giants?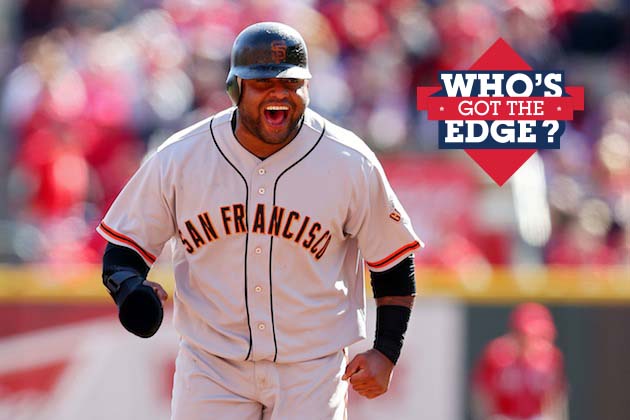 Pablo Sandoval or David Freese? Cardinals or Giants? (Getty Images)
Related: Who's got the Edge: Tigers or Yankees? | Full playoff schedule
And just when you thought the Giants had pulled off the most unlikely comeback in the playoffs, the St. Louis Cardinals -- down to their last strike yet again -- advanced to the National League Championship Series against San Francisco, just four games from defending their World Series title.
Which team has the edge? The two teams split their six games this season, splitting a two-game series in San Francisco and a four-game series in St. Louis. Since that's of little help, let's go position-by-position to make some sort of determination …
Catcher: Yadier Molina vs. Buster Posey/Herctor Sanchez

So you have the best defensive catcher who is a heck of a hitter against the best offensive catcher int he game who is a heck of a defensive catcher. While Posey will likely win the National League's MVP, Molina should be in the top five. Both are fantastic, but different, so this one is just too close to call.
First base: Allen Craig vs. Brandon Belt/Posey

Belt was 1 for 13 with seven strikeouts in the NLDS. San Francisco could also use Posey at first, as some pitchers prefer to throw to Sanchez. But even with the possibility of Posey counting at first, the advantage goes to the Cardinals. The 28-year-old Craig didn't immediately replace Albert Pujols, instead he replaced Lance Berkman, who replaced Pujols. And with his first real chance at playing every day, Craig was one of the big reasons the Cardinals didn't skip a beat without Pujols. In 119 games, Craig hit .307/.354/.522 with 22 home runs and 92 RBI. Not only did he help put the Pujols era to bed, he'll be able to man the position for years to come -- and at a fraction of the price.
Second base: Daniel Descalso vs. Marco Scutaro

Descalso had just four home runs in 143 games during the regular season, but hit two in the five games of the NLDS. It's enough to boggle the mind, but it's small sample sizes that make legends in October. That's why despite the fact Scutaro went just 3 for 20 in the NLDS, he gets the slight edge here because his track record is better than Descalso's, although it's entirely possible that Descalso ends up being the hero again.
Shortstop: Pete Kozma vs. Brandon Crawford

How do you go against the out-of-nowhere star of the NLDS? Kozma had the go-ahead hit on Saturday and a home run in Game 3. Kozma was almost out of the organization not long ago, but hit .333/.383/.569 in 26 games this season. Crawford's numbers (.248/.304/.349) don't stack up, but he's had a longer track record. At some point, does Kozma's inexperience cost the Cardinals? Despite Kozma's big hits int he NLDS, he was still just 4 for 16.
Third base: David Freese vs. Pablo Sandoval

Two years ago, this wouldn't be a contest. Nor, in the light of last season's postseason, would it seem to be much of a contest going into this season. However, while Freese has proven to be one of the game's best at his position, Sandoval is no slouch. Dreese hit .293/.372/.467 with 20 home runs this season and after last year's performance, the Giants won't want to see him in a big situation. He was also 8 for 19 in the NLDS, so he's living up to his reputation as a big-time player in the postseason. Sandoval hasn't been too bad either, hitting .283/.342/.447 with 12 home runs this season and is 7 for 21 with two doubles and a homer in the playoffs.
Left field: Matt Holliday vs. Gregor Blanco/Xavier Nady

This would be an interesting matchup if Melky Cabrera were still in a Giants uniform. He's not. Holliday, hands down is the pick here.
Center field: Jon Jay vs. Angel Pagan

Both center fielders can fill a highlight film, and help set the table for their teams. Jay's numbers, (.305/.373/.400) are a bit better than Pagan's (.288/.338/.440), but Pagan has a little more pop. Jay was 4 for 20 in the NLDS and Pagan was 3 for 20, but had a leadoff home run in Game 4 that set the tone. You could go either way, but in the end, we're calling it even.
Right field: Carlos Beltran vs. Hunter Pence

Pence has gotten a lot of credit for firing up the Giants, but his play on the field hasn't lived up to his antics. Beltran, on the other hand, was 8 for 18 with three doubles and two homers against the Nationals. In his career, he's hitting .365/.481/.808 in the postseason. Case closed.
Starting pitching: Lance Lynn, Chris Carpenter, Kyle Lohse, Adam Wainwright vs. Madison Bumgarner, Ryan Vogelsong, Matt Cain, Barry Zito/Tim Lincecum

It's not every team that can replace an injured member of their rotation with an 18-game winner, but that's just what St. Louis has done by replacing the injured Jaime Garcia with 25-year-old Lynn. The right-hander went 18-7 with a 3.78 ERA and he'll likely start Game 1 against Bumgarner. Bumgarner and Cain could be battling for Cy Youngs in the next couple of seasons, while Vogelsong has rebounded from a rough start to put together a solid season. If there were no questions about the health of Carpenter and Wainwright, it'd be tough to pick against them here. However, there are some issues, so by the slightest of margins, we're going with the Giants.
Bullpen: Jason Motte's crew vs. Sergio Romo et al

Neither bullpen will complete shutdown another team's offense. Romo is closing for the Giants, while George Kontos has seemingly appeared in every game of the season. The Cardinals counted on three rookies in their bullpen after Shelby Miller replaced Garcia on the roster. Last year Tony La Russa wouldn't call Motte his closer, this year he finished with 42 saves, removing any doubt. Overall, it seems just too close to call.
Defense

There are a lot of stats out there that measure defense and they all have their merits and problems. We here at Eye on Baseball are fond of using defensive efficiency for looking at team defense. It's basically the percentage of balls put in play that are converted into outs -- the Giants were slightly above the league average, eight overall (.693), while the Cardinals are slightly below league average (.686), 11th in the National League. The Cardinals have the best defensive player on the field in Molina, that makes it close enough to call it even.
Prediction

At this point, is there any way to pick against the Cardinals? If you go position by position, it may seem close, but the St. Louis lineup is just too powerful and too dangerous for them to be an underdog, despite the wild card status. It should be a fun series (we haven't had anything less this season), but look for St. Louis to win in six.
For more baseball news, rumors and analysis, follow @EyeOnBaseball on Twitter, subscribe to the RSS feed and "like" us on Facebook.