Giants rotation not getting the job done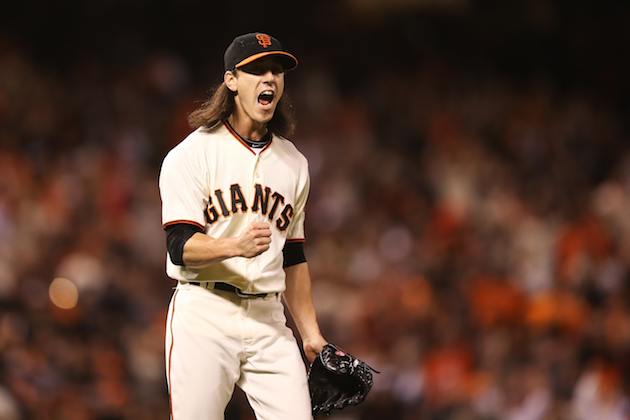 Will Tim Lincecumrejoin the Giants' rotation? (Getty Images)
SAN FRANCISCO -- In the regular season San Francisco manager Bruce Bochy was forced to go with a closer by committee, but in the postseason it appears he'll have go to go with a rotation by committee.
Once again in Sunday's Game 1 of the National League Championship Series against the Cardinals, Bochy was forced to go to his bullpen early and often, as starter Madison Bumgarner couldn't make it through the fourth inning, giving up six runs in just 3 2/3 innings.
Bumgarner's failing is just the latest by a Giants starter, through six games not one of the team's starters has recorded a quality start. In the first six games of the postseason, Giants starters are 1-3 with a 6.49 ERA.
Ryan Vogelsong's five-inning, one-run performance in Game 3 of the National League Division Series against the Reds is the team's best start in the postseason, while Matt Cain has the only win, earning the decision in Game 5 in Cincinnati, when he allowed three runs on six hits in 5 2/3 innings. Vogelsong is slated to start Game 2 on Monday and Cain will take the mound in Game 3 in St. Louis on Wednesday, but after that the team's rotation is in the air.
"We'll see where we're at as we get closer to Game 4, but we still have our options," Bochy said following Sunday's loss. "We knew that Timmy (Lincecum) was available [Sunday]. We used him. That's a possibility he could go Game 4."
If Lincecum, who pitched two scoreless innings of relief in Game 1, started Game 4, it would still create a question of who would pitch Game 5, Bumgarner or Barry Zito?
Bumgarner has been bad in both of his postseason starts, giving up four runs on seven hits in the Game 2 loss to the Reds in the NLDS.
"It was not very good, that's the way it's been the last couple of starts," a dejected Bumgarner said following Game 1.
While Bumgarner said he feels fine physically, "my stuff's not working." Catcher Buster Posey said the culprit is Bumgarner's command.
"His breaking ball is not getting buried in," Posey said of Bumgarner. "It doesn't quite have the same finish on it. That's the main thing."
Although Bumgarner said his confidence wasn't an issue, his body language and his answers in a post game scrum indicated it's hardly at its height.
On the opposite end of the spectrum is Lincecum, who has now appeared in three games this postseason, all in relief. The two-time Cy Young Award winner struggled this season, going 10-15 with a 5.98 ERA in the regular season. Used exclusively in relief so far during the playoffs, he's allowed just three hits and a run in 8 1/3 innings.
"I feel confident right now, you have to be with this, you can't go out there with doubt in your mind," Lincecum said. "(In the playoffs) every game is that much more important, that much more crucial."
As for starting, Lincecum said nobody's said anything to him about the possibility and he doesn't want to get himself in the mindset that he's looking forward to a start. Bochy said he would stay away from Lincecum in Game 2, although Lincecum indicated he could go if needed.
"I just want to go out with the mentality that wherever they need me, I'm going to try to get my outs and that's good enough for me," Lincecum said.
For more baseball news, rumors and analysis, follow @EyeOnBaseball on Twitter, subscribe to the RSS feed and "like" us on Facebook.