Matt Holliday admits his slide was late, says he had no ill intent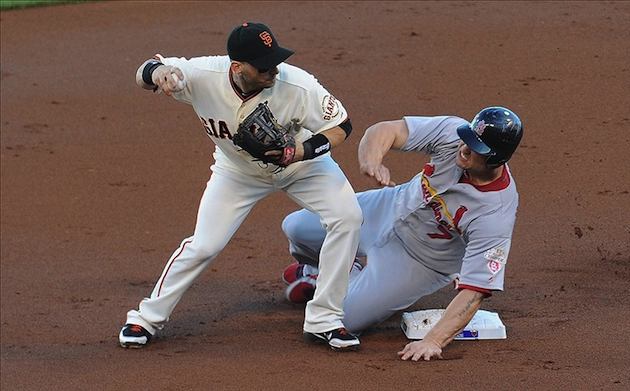 Everyone, including Matt Holliday, said his first inning slide was too late. (US Presswire)
SAN FRANCISCO -- The slide weighed heavily on Matt Holliday's mind, even as the Cardinals and Giants continued Game 2 of the National League Championship Series.
Not only did he immediately ask Giants second baseman Marco Scutaro if he was OK after he broke up the double play attempt in the first inning, he then told San Francisco catcher Buster Posey that he hoped Scutaro was OK before popping out in his third-inning at-bat.
"I felt bad. When a guy has to leave the game, it bothers me," Holliday said. "I hope he's OK. I hope it's precautionary. I'm a human being, I hope he's not injured. "
Scutaro stayed in the game immediately following the injury, even recording the Giants' biggest hit, but then left following the fifth inning with what the team called a left hip injury. He had an X-ray on site that showed no damage, but then had an MRI. The team has not yet announced the results of the MRI.
After the game, Holliday said he wished he would have started his slide earlier, and that he was sorry he slid late, just touching the bag with the lower half of his left leg and barreled into Scutaro, who was behind the bag.
More playoff coverage
ALCS: Tigers vs. Yankees
NLCS: Cardinals vs. Giants
"I'm not a dirty player. I wish I would have started my slide a step earlier, but when you're out there in the heat of the moment, you're just trying to make sure he doesn't complete the double play," Holliday said. "I play hard and tried to keep us out of a double play. That's what it comes down to, people can say what they want. I hope he's OK."
The play was a major storyline on the TV broadcast and played a big role in the game, not just because Scutaro had to leave the game, but also because Holliday admitted it stayed on his mind the rest of the game. After a hard single in the first to get on base, he didn't hit the ball out of the infield in his final three hitless plate appearances. He also let Scutaro's fourth-inning single go between his legs, allowing another run to score in San Francisco's four-run fourth.
A quick sampling of the Giants clubhouse didn't find anyone pointing fingers at Holliday or calling him dirty -- the harshest critique was from San Francisco manager Bruce Bochy, who called it "an illegal slide." Otherwise, Holliday's reputation in the game -- Aubrey Huff called him a "great guy" -- as someone who plays hard, but not dirty, kept the Giants from making any accusations or even getting in any type of altercations.
"It was late. It has hard and late, but I 'm sure there was no dirty intent or anything like that, I'm sure he wasn't trying to hurt him. He was just trying to break up a double play, it was just a little later than he should have (slid)," Giants shortstop Brandon Crawford said. "I know that he slides in hard -- he did the same to me, not as hard, but he did the same to me in St. Louis. I knew he was coming hard, he just came in later than he planned on."
That's more or less what Holliday said repeatedly as he talked to reporters for five minutes, answering multiple questions about every angle of the play.
Cardinals second baseman Daniel Descalso pointed to a bruise on his leg from a recent run-in at second base and praised Scutaro.
"A good second baseman's going to hang in there like Scutaro did. He did a great job hanging onto the ball and making a good throw to first base," Descalso said. "A lot of guys would throw that ball in the dirt and a runs scores, which is why you go hard into second, especially when there's a guy on second. If he throws the ball away there, it's another run for us. He did a great job of hanging in there and had enough on the throw to make it close. That's a hard-nosed baseball play."
Cardinals veteran Lance Berkman also backed his teammate, but noted that if the Giants did hold a grudge, they'd have every right to do so.
"(It was) probably a little bit of a late slide. I think most anybody who saw it say that. I think the thing to remember, you have to give Matt the benefit of the doubt because he's not a dirty player," Berkman said. "He plays hard, but I think he's well respected in the game and the other side knows that. Sometimes in the heat of the moment you can lose track of where you are on the field. I can understand wanting a good, aggressive lead and you're just trying to break the double play up and you're sliding into the guy and you don't realize your three feet beyond the bag. I think that's how it came about.
"It's one of those things, if they take exception to it, we really can't say anything because it was past the bag even though I don't think he had any intention of hurting Scutaro, he was just trying to break up the double play."
For more baseball news, rumors and analysis, follow @EyeOnBaseball on Twitter, subscribe to the RSS feed and "like" us on Facebook.