Fernando Rodney, Buster Posey named MLB Comeback Players of the Year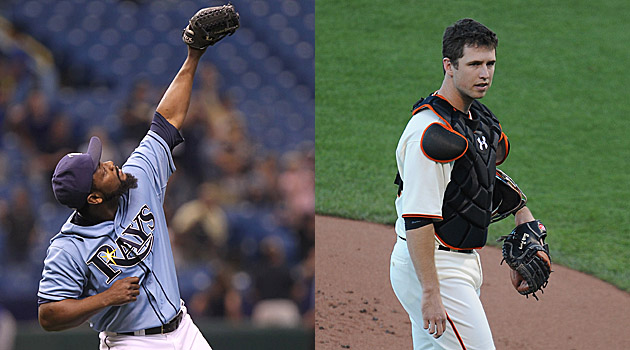 Your 2012 MLB Comeback Players of the Year. (US Presswire)
MLB.com has revealed its Comeback Player of the Year for both the National and American Leagues. The NL winner is Giants catcher Buster Posey, while the AL winner is Rays closer Fernando Rodney. Rodney was also named the website's Delivery Man of the Year.
These awards are not BBWAA awards (like MVP, Cy Young, etc.). Those awards will be revealed in November. The Comeback Player of the Year and Delivery Man of the Year are voted upon by the 30 MLB.com team beat writers. The main part of the criteria of the Comeback Player award is that it goes to the player who has best "re-emerged on the baseball field during a given season."
Rodney, 35, had 48 saves in 50 chances with a record-setting 0.60 ERA. He also had a 0.78 WHIP and 76 strikeouts in 74 2/3 innings. It was the first time in history a reliever had at least 40 saves with an ERA and WHIP below 1.00 while also striking out at least a hitter per inning. So he was an easy pick for the Delivery Man award, which is given to the best reliever in baseball.
Posey, 25, hit .336/.408/.549 with 24 homers, 103 RBI, 39 doubles and 78 runs for the NL West champion Giants. He was returning this season from a broken leg suffered in May 2011 on an ugly collision at home plate. He's also considered a frontrunner for the NL MVP, so this seems like an easy choice.
Back to Rodney, the argument can't be that he's undeserving based upon the numbers he put up. The numbers are insane and he'll likely get some attention in AL Cy Young voting (though I don't think he'll win). The argument against Rodney winning the Comeback Player instead will come down to criteria. Specifically, what each individual person believes "re-emerged" means.
Rodney didn't have a major injury in 2011. He just sucked. And he hadn't been especially good since about 2005. His ERA from 2007-11 was 4.42. His WHIP in that timespan was an ugly 1.50. And he was never a star until this season. So did he just emerge or "re-emerge?"
Depending upon definition of "re-emerged," Joe Mauer, Adam Dunn and Alex Rios all would have cases. Mauer battled several injuries to the worst season of his career in 2011, but he was back to being vintage Mauer this season. Dunn battled a historically bad season in 2011, while Rios wasn't much better, and both returned to form for the White Sox this year.
Still, the word "re-emerged" is pretty open to interpretation. Thus, if you disagree with the Rodney pick, you probably disagree with how the term has been applied by the good folks over at MLB.com.
For more baseball news, rumors and analysis, follow @EyeOnBaseball on Twitter, subscribe to the RSS feed and "like" us on Facebook.