Royals acquire RHP Ervin Santana from Angels for minor-league lefty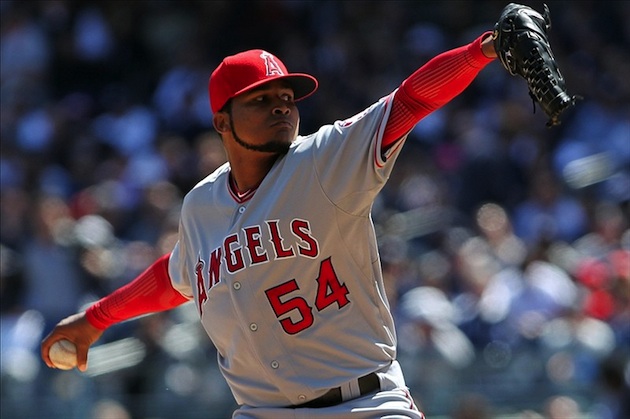 Ervin Santana will upgrade the Royals' rotation. (US Presswire)
The Angels have found a taker for Ervin Santana, and not surprisingly, it's the Royals. The Angels will recieve left-hander Brandon Sisk and cash from theRoyals.
Santana, 29, was 9-13 with a 5.16 ERA last season, leading the majors with 39 home runs allowed. However, a year ago he was 11-12 with a 3.38 ERA. The Angels held a $13-million option on Santana and as CBS Sports' Jon Heyman reported earlier this week, the team was hoping to trade Santana instead of just letting him go in free agency. Matt Snyder suggested the Royals as a potential landing spot for Santana or the Angels' other option decision, fellow right-hander Dan Haren.
Kansas City needs starting pitching and the Royals didn't seem to be in a position to lure free agents.
The transition to Kansas City should aid Santana, who will be 30 in December. The right-hander has a career record of 96-80 with a 4.33 ERA. While Kansas City is a good environment for pitchers, he's just 3-2 with a 4.59 ERA in his career at Kauffman Stadium -- and that was pitching against the Royals.
Royals starters were 47-69 with a 5.01 ERA last season, the fifth-worst ERA from starters in baseball. Only two teams -- the Twins and Rockies -- got fewer innings from their starters than the Royals' 880.
Last offseason the Royals signed lefty Bruce Chen to a two-year deal, meaning the 35-year-old will return. The rest of its rotation was Luke Hochevar, Luis Mendoza, Will Smith and Jeremy Guthrie. Hochevar, the first pick of the 2006 draft, is arbitration-eligible and on many teams would be a non-tender candidate. However, with the Royals' rotation woes, the team will likely bring him back in 2013. Guthrie is a free agent.
Sisk, 27, was 3-2 with a 2.54 ERA in 50 appearances for Triple-A Omaha.
For more baseball news, rumors and analysis, follow @EyeOnBaseball on Twitter, subscribe to the RSS feed and "like" us on Facebook.