Video: Giants teammates imitate Hunter Pence's speech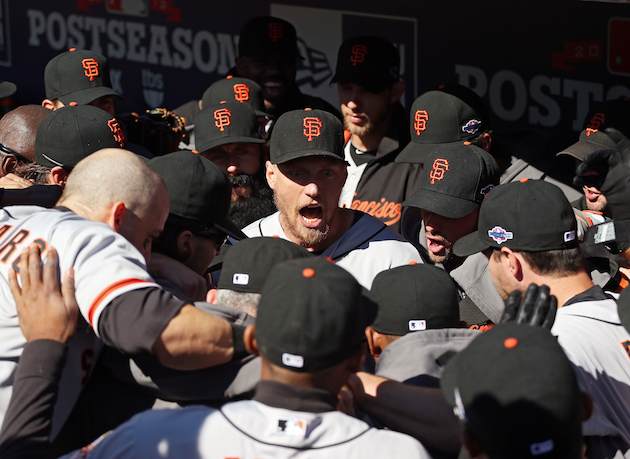 Hunter Pence's speech in the NLDS became the stuff of legend. (Getty Images)
One of the biggest stories to come out of the postseason was Hunter Pence's pregame speech before Game 3 of the National League Division Series in Cincinnati. With the Giants down 0-2 to the Reds and facing three games at Great American Ball Park, Pence fired up his teammates before the game, and the rest is history.
As part of the Giants' World Series DVD, Pence's teammates recreated the speech. Thanks to the magic of the Internet, Giants fans can now see it early, and those who aren't Giants fans and aren't buying the DVD can enjoy it as well:
What's funny is that Pence didn't want to talk about his speech after the game. His teammates just kept bringing it up afterward. To a man, it was a a topic of conversation. Still, Pence didn't want to talk about it. It's not in this story I wrote that day, but he denied he made any speech or did anything special. Yet, the Giants went on to win 10 of their next 13 games, and while too often the rah-rah speeches are more Hollywood than Cooperstown, this one will live on (with thanks to Scott Rolen's 10th-inning error).
H/T: Big League Stew
For more baseball news, rumors and analysis, follow @EyeOnBaseball on Twitter, subscribe to the RSS feed and "like" us on Facebook.