Ranking the 2013 Hall of Fame candidates: No. 6, Craig Biggio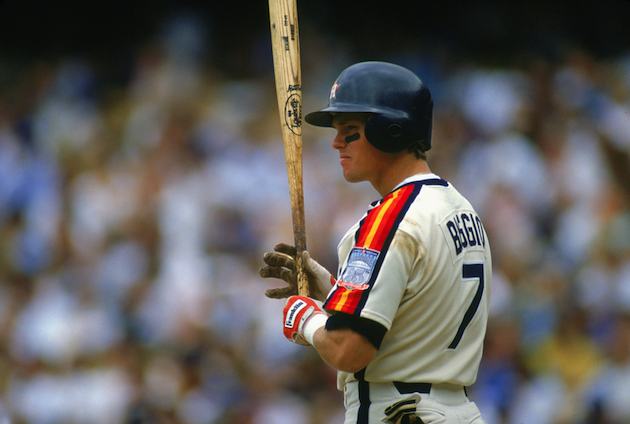 Are Craig Biggio's 3,060 hits enough to put him in the Hall of Fame? (Getty Images)
As we continue our countdown of the 37 players on the 2013 BBWAA Hall of Fame ballot, we're down to some of best candidates left on the ballot, and those who hit some of the game's magic numbers. While former Astro Craig Biggio is sixth among our list of players, he might have the best chance among any of the players appearing on the ballot for the first time of actually getting the call to Cooperstown.
Baseball Hall of Fame
Related coverage
As mentioned in my Q&A with Jay Jaffe, the JAWS ranking system (available at God's own Baseball-Reference.com) played a prominent role in our ordering of these candidates, but there's more to it than that. Your three hopelessly devoted EOB bloggers -- Matt Snyder, Dayn Perry and myself -- ranked each of these candidates according to a host of objective and subjective considerations, and then we averaged those rankings to come up with the final order.
In addition to the obvious necessities (i.e., each player's ranking and name, positions played/role filled, teams played for, years played, notable traditional stats), we're also listing each player's year on the ballot (candidates fall off the BBWAA ballot after 15 years and/or if they fail to be named on five percent of ballots in any given year), the player's vote percentage from the previous year (when applicable), the player's Baseball-Reference version of WAR (bWAR) and rank among the 37 candidates and his JAWS score and rank among candidates).
With that, we're on to No. 7 in your program and No. 6 on our countdown …
6. Craig Biggio; C, 2B, OF; Astros; 1988-2007
Year on ballot: 1st
Career stats: .281/.363/.433, 291 HR, 1,175 RBI, 1,844 R, 668 2B
bWAR, rank among candidates: 62.1, 11th
JAWS, rank among candidates: 51.3, 11th
Once upon a time, you get 3,000 hits, you go directly to Cooperstown, you do not pass Go, you do not collect $200. Of course, then there was Pete Rose. And then Rafael Palmeiro. And that's it, so far. Biggio finished his career with 3,060 hits -- a number that will likely earn him a plaque.
Of the 28 men who have collected 3,000 hits in the big leagues, those two are the only eligible players not in the Hall of Fame. Rose, of course, was banished from the game for betting on baseball. Palmeiro's bid has come up short in no small part because of a failed test for performance enhancing drugs. Derek Jeter joined the 3,000-hit club in 2011, but he's still playing and no doubt will be enshrined one day.
Biggio is not only 21st all-time in hits, he's also fifth in doubles (668) and 15th in runs scored (1,844). You can add to that five Silver Sluggers and four Gold Gloves. He also made seven All-Star Game appearances.
The career Astro is also the only player in history to have at least 3,000 hits, 600 doubles, 400 stolen bases and 250 home runs.
If elected, Biggio would be the 18th second baseman in the Hall and rank fourth among them in hits, 15th in average, 11th in on-base percentage, eighth in slugging, second in home runs, eighth in RBI, first in runs scored and fifth in stolen bases.
Biggio owns another record -- the modern-day mark of being hit by pitches. Thanks in no small part to an elbow pad that he wore on his left arm for most of his career, Biggio was hit 285 times -- two short of the record held by Hughie Jennings. A total of 249 of his hit-by pitches came from the 1995 season on, when he started wearing the pad. He was hit just 36 times from his debut in 1988 through 1994, before leading the league by getting hit 22 times in 1995. He'd lead the league in the category a total of five times, including a career-high 34 HBPs in 1997. The pad that he wore when he passed Don Baylor for the modern-day record is in the collection in Cooperstown.
Biggio will likely be inducted to the Hall of Fame at some point. But if searching for a reason not to vote for him (other than the era in which he played), there are some compelling arguments. The strongest case for a yes vote probably lies in the 3,000-hit barrier, but some would say Biggio kept playing to reach the mark to the detriment of his team. In his last eight seasons, Biggio hit .266/.338/.428 with an OPS+ of 95, while rapping out 1,192 hits. In his last three seasons, he hit just .254/.306/.425 with an OPS+ of 87, picking up his final 421 hits. He didn't hit .300 in any of his final nine seasons and was a .300 hitter in just four seasons in his 20 years in the big leagues.
In the end, he did get 3,060 hits and score 1,844 runs. No matter how those career stats were compiled, they are impressive and will likely earn him a spot in the Hall of Fame.
Would we vote for him? Snyder: Yes (4); Rosecrans: Yes (10); Perry: Yes (6)
For more baseball news, rumors and analysis, follow @EyeOnBaseball on Twitter, subscribe to the RSS feed and "like" us on Facebook.