Looking ahead at next year's first-year Hall of Fame eligibles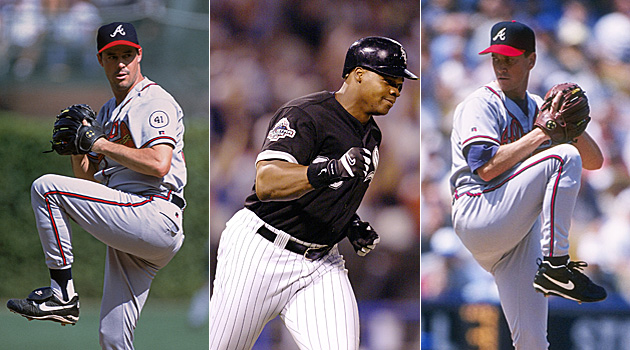 A trio of seemingly surefire Hall of Famers hit the ballot next year. (Getty Images)
The 2013 Baseball Writers' Association of America ballot for the Hall of Fame was as loaded as we've seen in recent memory. With no one being inducted this time around and only Dale Murphy, Kenny Lofton, Bernie Williams and a few others falling off the ballot, next year's ballot is going to be even more explosive. It starts with three men who appear to be surefire Hall of Famers: Greg Maddux, Frank Thomas and Tom Glavine.
Maddux is one of the greatest pitchers in baseball history and has never been connected to PEDs of any sort, so one would think (hope?) that he gets in without much of an argument. With four Cy Youngs, a World Series ring, nine finishes in the top five of Cy Young voting, eight All-Star games, 18 Gold Gloves, 3,371 strikeouts, more than 5,000 innings pitched and a low ERA, he should satisfy old-school voters. With a 101.6 WAR (25th all-time, not just among pitchers -- among all players), a 1.14 WHIP (55th ever), a 132 ERA-plus (34th ever) and 59.4 WPA (second all-time), he'll satisfy the sabermetric crowd. And, again, there aren't even whispers connecting Maddux to PEDs.
In Thomas, again, we appear to be looking at an all-time great. He hit .301/.419/.555 with 521 homers, 1,704 RBI, 1,494 runs and 495 doubles. He had 2,468 hits, but we cannot ignore the 1,667 walks. He was an on-base machine, as his OBP ranks 19th in history. His 4,222 times on base ranks 33rd in baseball history. He should avoid the DH stigma, too, because he played 969 games at first while serving as DH in 1,310. As for PEDs? Thomas has never been connected with them. Yes, he's a gigantic human being, but he always was and, in fact, still is to this day.
Glavine isn't as automatic as Maddux or Thomas, but he does seem like a Hall of Famer, even if he doesn't get in on the first ballot. He won two Cy Youngs and finished in the top five of voting six times. He played on many winning teams, had a good ERA and WHIP and was a workhorse, racking up 4,413 1/3 innings pitched. What it's all about with Glavine, though, is a seemingly "magic" number. He had 305 career wins. That ranks Glavine 21st in baseball history. Every other pitcher with at least 300 wins is either in the Hall of Fame, not yet eligible (Maddux, Randy Johnson) or has a cloud of PED suspicion hanging over his head (Roger Clemens). Glavine has no such cloud.
Past those three, this group of first-year eligibles still has intrigue. Specifically, two names jump out at me.
Mike Mussina should get a good long look from the BBWAA and will probably be one of those guys who hangs around the ballot for years and inspires debates on his merit. He went 270-153 with a 3.68 ERA (123 ERA-plus, which is better than Glavine), 1.19 WHIP and 2,813 strikeouts in 3,562 2/3 innings. He beats out Glavine and several current Hall of Famers in WAR. In fact, only 15 Hall of Fame pitchers have a higher career WAR than Mussina (78.2) and he's well above the average WAR for Hall of Fame pitchers, which is 64. But did he fall 30 wins and/or 187 strikeouts short. I feel like in the minds of the collective voting body, he did. We'll start finding out next year at this time.
And then there's Jeff Kent. Scoff if you wish, but Kent is among the best-hitting second basemen in baseball history. The following is where Kent ranks among second basemen in career numbers: first in home runs, third in RBI, 13th in runs, 12th in hits, fourth in doubles and fifth in OPS. Even if you believe Kent doesn't ultimately belong in the Hall of Fame, those numbers alone should prove that he at least merits serious consideration.
Also joining the fray are Luis Gonzalez and Moises Alou. Both were very good players, and Gonzalez exploded late in his career but neither will get a long look at the Hall. They may last a few years on the ballot (Bernie Williams lasted two), but that will be all.
Additionally, we may see the following show up on the ballot one time before falling off with not near enough voting support: Kenny Rogers, Ray Durham, Shannon Stewart, J.T. Snow, Sean Casey, Eric Gagne, Hideo Nomo and Jon Lieber.
For more baseball news, rumors and analysis, follow @EyeOnBaseball on Twitter, subscribe to the RSS feed and "like" us on Facebook.