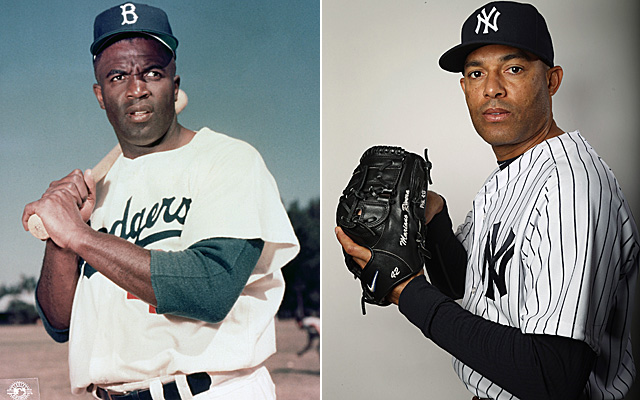 Back in 1997, Major League Baseball retired No. 42 for all of baseball to honor the immeasurable courage displayed by the late, great Jackie Robinson after breaking the color barrier in 1947. Players who already wore No. 42 were grandfathered in and could keep the number, however, and Yankees closer Mariano Rivera is the last remaining player with No. 42.
And now Rivera is set to retire after the 2013 season, so we'll never again see a player with No. 42 on his back -- other than those Jackie Robinson Day tributes, where many players don the number.
With that in mind, we can now put together an All-Star team of players who wore No. 42 in the majors and it shall remain unchanged forever.
One rule I instilled was the player had to wear the number for at least two seasons. That eliminates the 2007 season, where tons of players wore the number all year (such as Barry Bonds and Albert Pujols, who would obviously make the below team with ease). The rule also eliminates a few anomalies, such as Mike Mussina being No. 42 for just 12 starts his rookie year, Omar Vizquel wearing it his rookie year or Hall of Fame pitcher Bob Lemon being listed as No. 42 in 1942 but only appearing in a few games as a utility infielder.
So here we go, the best players who ever wore No. 42 in at least two seasons, in All-Star format:
Catcher: Ron Hodges
Hodges was No. 42 for the Mets all 12 years of his big-league career. He appeared in 666 games (eerie -- couldn't they have gotten him one more game?), hitting .240/.342/.322 and throwing out 31 percent of opposing basestealers. Yes, this was the best option at catcher, but it's not an awful choice with the respectable OBP for a catcher.
First base: Mo Vaughn
He was No. 42 for the entirety of his career as well, playing for the Red Sox, Angels and Mets. While he fell apart late in his career, Vaughn was one of the most feared sluggers in baseball for a stretch, a three-time All-Star who finished in the top five of MVP voting three times. He won the 1995 AL MVP and ended with 328 homers, 1,064 RBI and a .293/.383/.523 line, good for an impressive 132 OPS-plus.
Second base: Jackie Robinson
Easy call here. What he did for baseball makes him a Hall of Famer alone, but he was an exceptional player as well, hitting .311/.409/.474 with 162-game averages of 32 doubles, six triples, 16 homers, 111 runs, 86 RBI and 23 steals. Also, how about this one: Robinson racked up 740 career walks against only 291 strikeouts. That's discipline we don't see these days.
Shortstop: Cass Michaels
Michaels was No. 42 on the Washington Senators in 1950-51. He actually only played second base those two seasons, but we needed a shortstop and he played short 240 times in his career. He was a two-time All-Star, had a .262/.349/.353 career line and ranked in the top 10 of stolen bases in the AL four times.
Third base: Paul Schaal
From 1964-68 on the California Angels, Schaal donned No. 42. In his career, he hit .244/.341/.344. He had pretty good seasons for the Royals in 1971 and 1973, but overall was pretty unspectacular. Still, he was a major leaguer for 11 seasons, which is much more than many of us can say.
Left field: Hal Jeffcoat
Jeffcoat was No. 42 from 1956-59 for the Reds, but also played for the Cubs and Cardinals. In terms of career WAR among position players, he's the worst player on this team by a decent margin. He hit .248/.291/.355. He mostly played center, but also saw some time in left. Jeffcoat was also a pitcher -- and was better at pitching than hitting, but we needed another outfielder. In fact, it's worth noting here that the overwhelming majority of players who ever wore No. 42 were pitchers. It took me forever to find enough names to round out the position players.
Center field: Tom Goodwin
Goodwin sported 42 for the Royals from 1995-97. Many readers will likely see his name and immediately remember outstanding speed. Goodwin swiped 369 bases in his career, including four seasons with at least 50. He didn't have much power and his career line was .268/.332/.339.
Right field: Dave Henderson
"Hendu" was 42 for most of his career, which included stops with the Mariners, Red Sox, Giants, Athletics and Royals. He was an All-Star once and twice received MVP votes. On his career, Henderson hit .258/.320/.436. He hit at least 20 homers in a season four times. He was an outstanding postseason hitter, sporting a .946 OPS with seven bombs and 20 RBI in 36 playoff games. His most famous blast was a ninth-inning, go-ahead shot in Game 5 of the 1986 ALCS in Anaheim. The series went back to Boston, where the Red Sox would win twice and head to the World Series.
Designated hitter: Greg Luzinski
"The Bull" was a pretty feared slugger in the 1970s and into the early '80s. He was a four-time All-Star and hit 307 homers in his 15-year career. Career line: .276/.363/.478, which is good for an OPS-plus of 130.
Left-handed starting pitcher: Larry French
He pitched from 1929-42 for the Pirates, Cubs and Browns. He was only No. 42 for three seasons, but overall a fine choice for our lefty. French went 197-171 with a 3.44 ERA (114 ERA-plus) and 1.33 WHIP. He logged over 3,000 innings and his 40 career shutouts ranks him 44th on the all-time list.
Right-handed starting pitcher: Curt Davis
Davis also only wore No. 42 for three years, but he spent 13 seasons in the majors, playing for the Phillies, Cubs, Cardinals and Browns from 1934-46. He was a two-time All-Star and received MVP votes three times, finishing fifth in 1939. For his career, Davis went 158-131 with a 3.42 ERA (116 ERA-plus) and 1.26 WHIP. Control was his calling card, as Davis ranks 60th all-time in allowed walks per nine innings (1.85).
Setup man: Bruce Sutter
Yes, he's a closer by trade and a current Hall of Famer, but he can't hold our closer's jock. That isn't meant as an insult to Sutter, as it's just like saying Jim Rice can't hold Babe Ruth's jock. Sutter saved 300 games in his career with a 2.83 ERA and 1.14 WHIP. He was a six-time All-Star, won the 1979 NL Cy Young and was a dominant closer for several years. He'll join with the man below to make a formidable back-end of our bullpen.
Closer: Mariano Rivera
Easy choice. He's the best closer of all-time and it's not close. He has 608 career regular-season saves with a 2.21 ERA and 0.998 WHIP. His 206 ERA-plus is the best ever in a landslide (seriously, click through and see how big the gap is) and he's a 12-time All-Star with five World Series rings. Also, how about 42 postseason saves with a 0.70 ERA and 0.76 WHIP? Not too shabby, eh? What is perhaps best about Rivera is his demeanor. He never shows anyone up and has a businesslike approach that many closers lack.
Lineup card
1. Tom Goodwin, CF
2. Jackie Robinson, 2B
3. Mo Vaughn, 1B
4. Greg Luzinski, DH
5. Dave Henderson, RF
6. Cass Michaels, SS
7. Paul Schaal, 3B
8. Ron Hodges, C
9. Hal Jeffcoat, LF
SP: Larry French, Curt Davis
Setup: Bruce Sutter
Closer: Mariano Rivera
Without going through this exercise for every number, my gut instinct is that this team would rate out as pretty bad against many lower numbers. The offense would be pretty reliant on damage from the 2-5 spots and while the starting pitchers are quality, they aren't near ace level. It's worth mentioning that having the number retired for the past 15 seasons likely hurt a bit.
From now on, no one will ever qualify to make this team for the rest of history. No. 42 belongs to the history books. Rightfully so, as there's no player in baseball history who deserves to be honored to the extent of Jackie Robinson.
If Robinson were alive to watch Mariano Rivera pitch, the guess is he would be proud that this man ended up being the final player to wear his number.
For more baseball news, rumors and analysis, follow @EyeOnBaseball on Twitter, subscribe to the RSS feed and "like" us on Facebook. Also, individually interact with us on Twitter: @MattSnyder27, @daynperry and @mikeaxisa.