NBA Trade Winners and Losers: Bogut to Warriors, Ellis to Bucks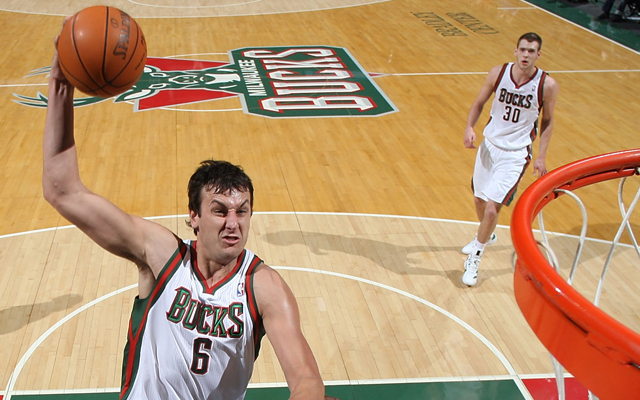 Andrew Bogut will join the Warriors as their defensive icon of the future, if he can stay healthy.
(Getty Images, illustration by EOB)
The Warriors and Bucks completed a trade Tuesday to send Andrew Bogut and Stephen Jacson to Golden State for Monta Ellis, Ekpe Udoh, and the expiring contract of Kwame Brown who is out for the season with an injury.
So how does this shake out? Here are winners and losers.
Winners: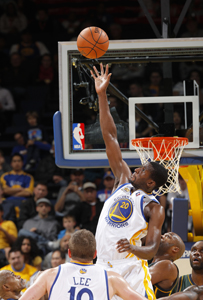 Ekpe Udoh is an underrated asset the Bucks acquired Tuesday.
(Getty Images)
Milwaukee Bucks
They gave up the best overall player in the trade in Andrew Bogut. But Bogut has suffered a bizarre series of freak injuries. Does that indicate a future of problems? Not at all. But Bogut has admitted that his elbow which he fractured two years ago will never be 100 percent again most likely. He's struggled to stay on the court and eventually you have to move on.
Beyond that, though, this is a chapter-turn for the Bucks. They acquired an exceptionally talented and blossoming young center in Ekpe Udoh with great length and athleticism. They cleared space with Kwame Brown's deal. And Monta Ellis will provide them with exceptional scoring ability.
Ellis is the second-best player in the trade, yet also the biggest question mark. Can Ellis suceed in Scott Skiles' defensive-focused system? Can he and Brandon Jennings share the ball? Will Ellis have the same troubles with Skiles that Jackson did? The long-term move is great, but the part most people will focus on is risky.
Mark Jackson
All the pressure of succeeding and making progress by making the playoffs this season is gone. His best player may miss the rest of the season. He gets a seasoned veteran in Jackson who will likely respond to his experience and approach. And when Bogut's healthy, he's the defensive-minded center that Jackson has coveted for a year. The Warriors aren't necessarily better for this trade, but Jackson is in a better situation than he was before this trade.
Ersan Ilyasova
He gets a bigger role in the offense alongside Udoh in such rotations and will likely receive the commitment of the franchise long-term.
Stephen Jackson
Gets away from Scott Skiles, returns to a team and a city he had a tremendous amount of success in, a city much more his style than Milwaukee. He takes over on a team that will need his scoring, inefficient as it will be, and is young enough for him to be a leader on. And if he shows out he may just get the extension he's been looking for (which the Warriors should in no way give him).
Andrew Bogut
He gets a trade compensation bonus of 15 percent of his salary. He plays on a deeper team that has better overall talent. He has a scoring power forward who isn't Drew Gooden to play next to. Bogut gets to be the man in Golden State, get some extra money, and play in warmer weather. Not a bad deal. He just has to get healthy.
Losers:
Monta Ellis
Leaves a warm weather team he's been with his entire career to go to Milwaukee, a fine town tha NBA players seem to hate, to play next to a young, brash point guard that likes to shoot long twos, the same shot Ellis loves. Ellis will be expected to play at an MVP level to raise the Bucks' offense and play constant hounding defense with a coach that will not let him slack. This could go badly.
Brandon Jennings
Gets trumped as the primary offensive threat, the team may be looking to move him in the coming months, and will simultaneously have higher expectations. It's a tough match for him.
Golden State Warriors
This is a hugely risky move. Taking on Jackson's contract ties up a lot of money, and they still have a high payroll. It could work out. Stephen Curry-Jackson-Dorrell Wright-David Lee-Bogut is a pretty good starting five. But Curry and Bogut have injury questions, Jackson is getting older, and that's a lot of money. The Warriors have turned towards the future but still needs a lot to go right for them.
Scott Skiles
More pressure on him to have the offensive impress. Has to convince Monta Ellis to play defense. Loses a DPOY candidate when healthy. And Skiles has to develop young talent which has never been a strongpoint of his tenure. Greater pressure for Skiles now.