Reports: Dwight Howard to opt in (again) after late night change of heart?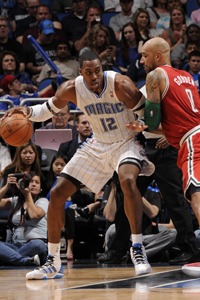 Dwight Howard wants to be in Orlando next year (again)?
(Getty Images)
If you want to accuse Orlando Magic All-Star center Dwight Howard of having Multiple Personality Disorder, you wouldn't get any argument, not after the last 48 hours.
In a never-ending series of flip flops and opinion switches, Howard reportedly decided again late Wednesday night that he wanted to commit to the Magic through the 2012-2013 season. That decision, one he made earlier on Wednesday and then reversed, would involve waiving the early termination options in his contract which would allow him to become a free agent this summer.
RealGM.com reported the following details
late on the eve of Thursday's NBA trade deadline.
Dwight Howard has confirmed that he will opt-in for the 12-13 season in an exclusive interview with RealGM's Jarrod Rudolph.Howard will formally sign the paperwork in the morning on Thursday.

"My soul, everything I have is in Orlando. I just can't leave it behind."

"I have gotten some bad advice," said Howard. "I apologize for this circus I have caused to the fans of our city. They didn't deserve none of this."
Shortly thereafter,
HoopsWorld.com reported
the following details.
Source close to Dwight Howard says the center plans to sign ETO waiver on Thursday morning. It also sounds like Howard may fire Dan Fegan.

As we learned this afternoon, nothing is official until Dwight Howard signs the paperwork.
On Tuesday evening,
Howard told reporters
that he wanted to remain in Orlando through the end of the 2011-2012 season and hoped he would not be traded. Those statements fueled speculation that he wanted to sign with the New Jersey Nets next summer as a free agent.
On Wednesday afternoon,
Ken Berger of CBSSports.com reported
that Howard had informed his Magic teammates that he planned to remain in Orlando through the 2012-2013 season, although the Magic organization remained skeptical of the idea and sought a waiver of the Early Termination Option as a way to solidify his commitment.
As Wednesday progressed,
Berger then reported
that Howard would not waive his ETO and would keep his options open. Now, roughly six hours later, Howard has reportedly shifted course again.
The Magic, throughout the process, have reportedly been shopping Howard, and remain faced with the decision of trading him prior to Thursday's 3 p.m. Eastern deadline or retaining his rights for the rest of the year.
Clearly, we've reached the theatre of the absurd stage in this drama. With roughly 13 hours to go, the deadline can't get here quickly enough.