Grade the Trade: Nuggets-Wizards-Clippers three-way as Denver looks forward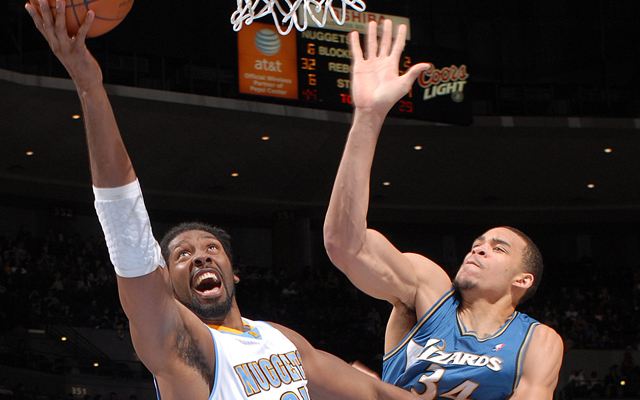 Denver had "buyer's remorse" about their five-year deal with Nene and traded him to Washington.
(Getty Images)
Denver Nuggets receive: JaVale McGee, Ronny Turiaf
Washington Wizards: Nene, Brian Cook
Los Angeles Clippers: Nick Young
Denver Nuggets
The first thing you have to understand is that if you look at this trade in the context of "giving X to receive Y," then the Nuggets failed. Nene is a better player than JaVale McGee. He is smarter, more consistent, has more experienced, is a better teammate, doesn't run in the wrong direction and isn't regarded as one of the most boneheaded players in the league. McGee is. This is a monster downgrade in terms of talent. If you take Nene at his best, and McGee at his best, and compare them, Washington wiped out the Nuggets like a tidal wave on a surfer.

But you can't look at the trees and ignore the forest. Not when we're dealing with Denver GM Masai Ujiri. Ujiri looked long-term with the Carmelo Anthony trade, then turned those assets into more long-term assets. The Nuggets have done one thing better than acquiring athletic talent, better than putting together an exciting team, better than building a Western Conference contender. They've kept their options open. They didn't break the bank for J.R. Smith, they've held a strong line with Wilson Chandler, they didn't over-commit. They gave Nene the $67 million, 5-year deal in December because they honestly felt he could return and contribute at a high level. He returned and contributed at a strong level.



League source says Nuggets had experienced some "buyer's remorse" after signing often-injured Nene to a five-year, $67M deal in Dec. '11.

— Ken Berger (@KBergCBS) March 15, 2012



But you can see that five years from now, that deal was going to be toxic. In four years, that deal was going to be toxic. Even in a shortened season, the problems with Nene were prevalent, and they weren't conditioning. In reality, it's impossible to pay Nene the right amount. He's way to good to try and undercut, but way too incomplete and lacking in the ability to dominate to overpay. And on the backside of his career, having that deal hurts them too much long-term.

So they get McGee. And if they sign McGee to the rumored $14 million he plans on pursuing in the offseason (on Twitter, this is the point where I would type "LOL"), then this is an abject disaster. But it doesn't seem like they will. This seems like a move not about bringing in McGee, but about giving minutes to Kenneth Faried, AKA Manimal, who has been a difference maker for the Nuggets with Nene on the bench. Faried has given them a huge spark, and needs more minutes. Consider that George Karl began the year saying Faried wouldn't play, because of how raw he is. He's earned his way to his minutes. Now he splits them with another shot blocking machine in McGee. Are they as good defensively? Maybe not. But they are healthier and cheaper, that's for certain.

The other element in play is Wilson Chandler. The Nuggets have been up against a deadline to sign the restricted free agent by a reported deadline of Friday, at which point he'll finish his season in Italy. If they manage to sign Chandler for a decent deal they'll have a younger player at a more crucial position. But again, this isn't about the short-term. They're not better right now. But they've given themselves the ability to to have options. And in a league that seldom is willing to swallow its pride and make a move for a player it cares about for its long-term health, you have to evaluate it well.
Washington Wizards
So if the Nuggets needed to correct their Nene mistake so badly, how can this deal be good for Washington?

Simple. They needed actual basketball players. This team was corrupt. It was rotted, from the inside out, with immature, selfish, flawed players who didn't co-exist or make one another better. They were not a basketball team, they were a carnival act. Not a ride. Rides are fun. Carnival acts are only amusing for people who didn't have access to the talkies. It was the bearded lady. Obvious, patently absurd, and a little bit offensive to the game of basketball.

You can't let this happen to John Wall.

Would moving Andray Blatche have been better? Sure. But since he's one of the most unmovable contracts in the league, it wasn't going to happen. Instead they move Nick Young, who they were going to wind up paying a fortune for in free agency for a gunner who needs guidance, and JaVale McGee who does some of the most patently ridiculous things you'll see and who wants an absurd amoung of money. They get a real basketball player, someone to come in and play well, be a professional, and help change the culture. John Wall and Nene on the pick and roll is what you want for Wall, at least in the short-term.

You have to change the culture in Washington. Trevor Booker, Chris Singleton, Wall, and Nene are a good start. They'll be terrible. But maybe they can look themselves in the mirror a little bit more. Baby steps.
Los Angeles Clippers
The Clippers needed a shooting guard. Chauncey Billups went down, and their offense tanked. They need a wing who can hit from the perimeter. There are a million reasons to be wary of Young. It's a bad defender going into a bad defensive team. It's a gunner who goes ISO on a team with much better weapons. It's Nick Young.

But Young has capable veteran leadership for the first time in his career. Do you realize Young's closest mentor has been Gilbert Arenas? Don't get it twisted, Arenas helped show Young how this league works, looked out for him, has acted a brother. Young doesn't have any black marks on his playing record outside of inefficiency. But you want someone who knows how to excel in this league to guide him. Chris Paul needs to say five sentences to Young when he arrives.

"We're glad to have you, kid. You will not dribble. You will catch, and you will shoot. Do that, we'll get along great. Oh, and don't get in Blake's way on the break, he'll kill you."

This is a solid pickup for the Clippers, but they need to integrate him carefully.