Kyle Lowry could miss the rest of the season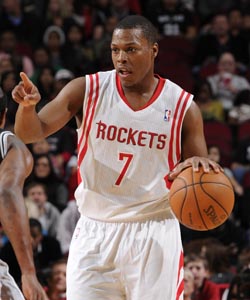 The Rockets are making a strong push in the West for a playoff spot. They're currently in eighth, sitting at 26-23.
But if they're going to complete the task and make it into the postseason, they might have to do it without their best player.
Because via the Houston Chronicle
, Kyle Lowry may not be able to return this year from a bacterial infection:
Lowry said he might not be able to return this season from his bacterial infection and its treatment, but was happy just to be back at a morning shootaround.

"It was very scary for awhile," Lowry said. "I had a temperature of 104 for a couple days. It's not a good feeling. It's very scary, but it's something that you learn from and you have do deal with and do what you have to do to get better. If I waited a little bit longer I could have been (in danger.) I could have been in a real bad situation if I waited a day longer to go in.

"They don't have a clue how it happened or how this situation came about."
Lowry discovered he had the medical issue by accident, as he went in to get an MRI on his groin and his team doctor said he didn't look right. So he was sent to the Knicks' physician (the Rockets were in New York) and was diagnosed with a bacterial infection.
"(If not for the groin problem), I wouldn't have got the MRI. The MRI helped me find what was really wrong with me, why I was sick and why I felt the way I felt.
"Terrible. Horrible. Awful. Not right at all," he said of how he felt that night. "It was just a bad ordeal for me. I was sick before the game. After the game, the guys waited for me an hour. I was trying to get an IV and they couldn't do it. I was cold, shivering, chills. It was just a tough situation."
Goran Dragic has filled in admirably for Lowry and kept the Rockets ticking. They might have just enough to make it to the postseason without Lowry, but if they have any dreams of doing something when they get there, they're going to have to have their bulldog point guard back.