Nets targeting Kevin Garnett and Ersan Ilyasova this summer?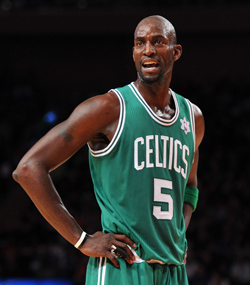 The Nets struck out on Dwight Howard, so it's on to Plan B. Unfortunately for them, Plan B includes a 35-year-old and a guy averaging less than 10 points a game for his career. Your new Brooklyn Nets, everybody!
According to the New York Daily News
, the Nets, who have about $8 million in cap space this summer assuming they announce Kris Humphries' rights, are targeting Kevin Garnett and Ersan Ilyasova. Talk about a consolation prize, huh?
The Nets' first priority is to try and re-sign Deron Williams, but that's not going to happen unless a couple names join him in Brooklyn. Garnett is certainly a big name, but he'll be 36 next season and is on borrowed time with his knees. Ilyasova has shown flashes, but it would be just like the Nets to overpay to get him. There's talk about bringing back Ryan Anderson who has broken out with the Magic, but pairing him inside with Brook Lopez would give the Nets a pretty weak rebounding duo.
Williams is obviously growing tired of this losing game, and isn't going to put up with it much longer with the Nets unless there's a real effort demonstrated this offseason to improve. His hometown Mavericks are going to come calling and with a team that could win and contend right away, Williams isn't going to hang around on the promises of Billy King and Mikhail Prokhorov. He wants help, and he wants it now. Howard was supposed to be that help, and while the Nets were surely close, Howard's decision to stay with the Magic blew all that apart. It sent the Nets back to the drawing board.
But they have some cap space and some flexibility. There are a few nice things on the roster in Lopez and MarShon Brooks. And with the room to target someone in the offseason, the Nets aren't
that
far off. It's about making smart decisions, not overpaying and keeping the future, as well as the present, in mind.
With them striking out on Howard though, it's hard to imagine the Nets keeping Williams. He's grown more frustrated this season and despite him saying all the right things and playing hard, he's obviously ticked about spending a second straight season outside of the playoffs. He's been ejected twice in his career, and both have come this season.
And if he doesn't get help soon, he's going to eject himself from the Nets this summer.