Road to the Finals: Dallas Mavericks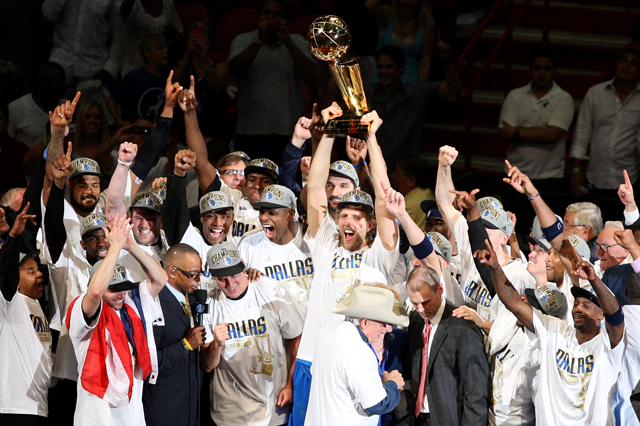 The Mavs are dangerous because they've done it before. (Getty

Images)

In an ongoing series, CBSSports.com Eye On Basketball will take a look at the leading championship contenders as they head into the NBA playoffs. Next up: the Dallas Mavericks.
In Dallas, that new championship smell wore off pretty quickly. The Mavericks didn't open the season with a title defense, but a title daze.
Part of the problem was that it wasn't the same team. In an effort to clear some cap space for a prime 2012 free agent crop, Mark Cuban made the decision to let championship pieces Tyson Chandler and J.J. Barea walk and replaced them with average components. It took time for the remade roster to not only gel, but get in shape again. Maybe it was from too much post-championship partying, but even Dirk Nowitzki needed a week off to try and find his legs.
It was obvious early on: The Mavericks just weren't entirely there mentally. They slogged through the first two months, getting blown out routinely while just sort of keeping their head above water.
And the truth is, they still haven't entirely figured it out. As it stands, the Mavs are only two games from missing the postseason.
But right now, they're the six-seed and there's a low rumbling consensus around almost every Western contender: Avoid the Mavs. Nobody seems keen on playing the defending champs and there are reasons. 1) They believe. 2) They're the champs. And 3) Dirk. Get in a seven-game series with the Mavs and that means you have the task of beating Dirk four times. That's not an easy assignment.
Still, there's a strong indication that this Mavs team just isn't the same threat as the group that ran through the West en route to their first title. For example, against elite opponents, the Mavs are 1-3 against Oklahoma City, 0-2 against Miami, 2-2 against San Antonio and 0-3 against the Lakers.
So what are the major issues that have surfaced this season compared to last?
Defensively, they've been fine. The Mavs evolved into one of the toughest defensive units in the game with Tyson Chandler patrolling the paint, Shawn Marion guarding the other teams best scoring and a structure that was aggressive and physical. This season? They're good again. The Mavs rank sixth in defensive efficiency and allow just 93.3 points per game (sixth). So that's not really a problem.
It's actually been the other end of the floor that's become a problem. The Mavs have taken a major step back offensively this season. They rank 23rd in offensive efficiency scoring only 102.4 points per 100 possessions. With a team that features Dirk, Jason Kidd and Jason Terry, that's simply not good enough. Dallas became famed in the postseason for its spot-up shooting and ball movement. This year, the Mavs are 13th in assists per game and still hit 7.4 3s per game, which is sixth in the league. Problem is, as a team they're shooting only 33 percent from deep. And that's where the Mavs have typically been so successful offensively -- they score incredibly efficiently. They shoot a high percentage and get a high bang for their buck. In terms of field goal percentage, free throw rate and points per shot, the Mavs have always done well.
This season, they're 25th in free throw attempts per game, 20th in points per shot and 22nd in field goal percentage. They've taken a major step back offensively. Part of that is on Dirk, part is on Terry and part of it is simply a product of the overhauled roster.
The Mavs begin and end with No. 41 though and he's simply not been as good this year. Dirk's aging -- he's 33 and a little worn down -- and is shooting only 45.9 percent from the field, the lowest in that category in six seasons. His points per game are down to 21.2, the lowest that's been since his second season in the pros. His free throw attempts are down, his 3-point percentage has dipped and he's averaging only 6.6 rebounds per game. Dirk's PER of 22.08 is the lowest it's been since his second season. Rick Carlisle is likely trying to play it smart with Dirk in this lockout compressed schedule, but the fact is, the Mavs' backbone hasn't been entirely himself this season.
Which is one reason though that other teams are so fearful of Dallas. Because despite the issues, despite Dirk not playing that great, despite Lamar Odom mailing in most of the season, the Mavs are in the thick of the postseason hunt and could obviously turn things around very quickly. Maybe they've simply been playing a little rope-a-dope all season long just trying to get to the playoffs. Who knows.
But here's the reality: The Mavs are relying on major contributions from Vince Carter, Brandan Wright, Ian Mahinmi and Delonte West. Not necessarily a bad group by any means, but you're going to need to get some overachieving out of your role players if you want to go anywhere. What made the Mavs so successful last postseason was the grit of Chandler inside, the change-of-pace of Barea, the 3-point shooting and defense of DeShawn Stevenson and of course the shot-making from Terry and Dirk. A lot of those elements fall with new players and it hasn't worked out on a consistent basis for Dallas this season.
When you're sitting sixth in the conference, you really don't get the luxury of planning or hoping for specific matchups. If the season ended today, Dallas's likely path would go through the Lakers, Thunder and Spurs. The three best teams in the conference. If there was an upset at some point, obviously that favors the Mavs, but an easier road isn't something they can plan for. If you're going to The Finals though, you're going to have to beat good teams. Especially if you finish fifth or sixth in the conference.
But I kind of get a New York Giants vibe from the Mavs a bit, in the sense that they just want to get in. Get in the postseason and they're a threat. They're dangerous. They probably just think they're saving themselves for the playoffs. The truth is that they aren't the same team at all that won a championship last season and they'd have to play darn near perfect to make another run to The Finals. Don't tell them that.
The Mavs always have a shooter's chance though because of Dirk. He's an impossible matchup for anyone and if Dallas is close, he and Terry both not only have the ability to make enough plays to win, but they now have the confidence. They're the champs, which always means something until someone takes their crown.