Magic VP Pat Williams says he's never seen anything like the Van Gundy saga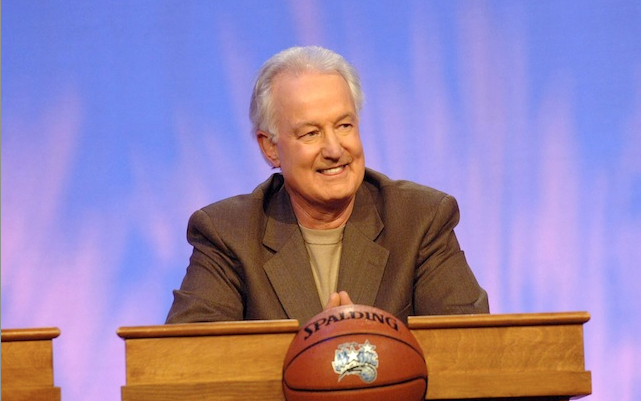 Pat Williams hasn't seen anything like the Dwightmare in Orlando.
(Getty Images)
Here's all that's happened in Orlando this season:
The Magic entered the season with Dwight Howard trade rumors, then there were more Howard trade rumors. Then more Howard trade rumors, then Howard asked to be traded and then Howard publicly confirmed he asked to be traded. Time passed with lots of rumors and speculation and the Magic somehow stayed pretty competitive in the East. Howard then said the night before the trade deadline he was "all in" for this season. Howard decided to waive his early termination option. Then he changed his mind on that. Howard then changed his mind again and actually waived it, claiming loyalty to the organization and city. Then Howard reportedly asked for Stan Van Gundy to be fired. Then Stan Van Gundy confirmed he heard it "from the top" that Howard wanted him fired. Howard still somehow denied it and made everything super awkward for everyone.
And yet, they're still playing basketball. Crazy doesn't even begin to describe this season in Orlando. Which is why Magic senior vice president
Pat Williams said on ESPN Radio he's never seen anything like this
.
"I don't know what happened. It is bizarre. Stan apparently had a press conference after the shootaround today and said something that triggered all of this. All I know and can tell you is that Stan is the coach and a good one. Dwight Howard is our center. It looks like he will be back tonight [interview was done Friday]. He did practice this morning as did Jameer Nelson. I think it's just part of this year. Mike, I have been in this league 44 years and never seen anything like this year. We've had more plate spinning with the Orlando Magic this year just spinning endlessly and this is the latest plate to spin. I wish I could give you some real insight. All I know is that Stan will be coaching tonight and his players have been very supportive of him."
As wild as the Howard stuff has been, Williams said nobody in the organization had any idea Van Gundy was going to let the cat out of the bag though.
"It caught everybody by surprise. Nobody was prepared for this at the press conference after the shootaround. I don't think anyone really knows what the story is here. Apparently a front office official [said this]. I don't know who that person could be. I would say there is no truth to any of this. Stan is the coach and a highly regarded coach."
Of course the question still is, will Howard remain in Orlando? If so, what do the Magic have to do to keep him? He's already reportedly wanted to be included in front office decisions and now wants to pick the coach. But that's not going to happen, so says Williams.
"That won't happen. You can't do that. That's an ownership decision about who is going to GM the club and who is going to coach the team. You can't have players making those decisions. First of all they are not qualified. They have enough to do just playing. It's a full-time job setting up a front office and a coaching staff. No I can't picture any team in any sport doing that. Certainly we wouldn't."
What can you even say about this mess the Magic have on their hands? You feel for Williams and others in the front office that are trying to somehow do damage control. Otis Smith said he never was asked by Howard to fire Van Gundy. But something happened, otherwise Van Gundy wouldn't have aired grievances at that shootaround.
Somehow the team has to focus on the remaining 10 games and the playoffs ahead. The Magic probably aren't going anywhere this postseason, especially with this noise overhead. The offseason though, there could be some fireworks.