George Maloof on Sacramento arena: Negotiation needed or deal is dead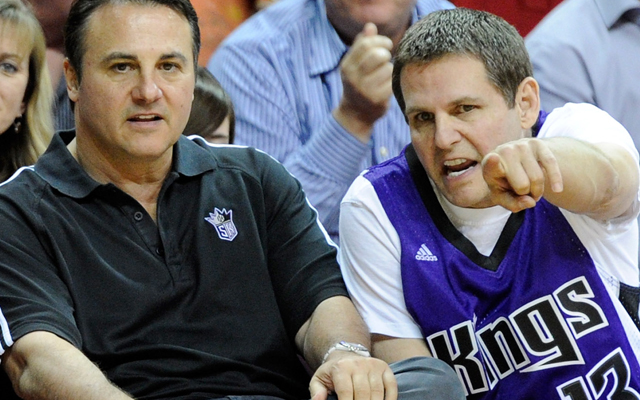 The Kings fire back at a letter written by Sacramento Mayor Kevin Johnson.
(Getty Images)
The Sacramento arena negotiations are now squarely in the public eye.
In a letter released Thursday, Mayor Kevin Johnson said there should be no reneging on the deal struck between the city, the NBA and the Maloofs to keep the Kings in Sacramento. On Friday, Kings co-owner George Maloof responded angrily in a televised news conference from New York, saying that he wants his franchise to remain in Sacramento but that negotiations must continue.
"If the mayor says he's not negotiating then he killed the deal, it's over," Maloof said. "It's over."
"The best - and only - way to demonstrate that commitment is to honor the 'fair deal' as all other parties have done," Johnson's letter read. "Your handshake is your handshake. Your promise is your promise."
"We're working in good faith to get a deal done," Maloof said, painting this as an ongoing process rather than a completed agreement. "Not kill a deal."
Maloof said that relocating the Kings -- as was attempted last year with a near-move to Anaheim -- is still "off the table" and that the family remains committed to keeping the Kings in Sacramento.
"Our intentions are to stay in Sacramento," he said. "My intentions are not to blow this up. A year ago, we came back and we stayed, we've been good boys. Joe and Gavin have done their best to fill up the arena... now it's time to negotiate a major deal."
Maloof's general outlook is that haggling over the terms of the agreement is a standard part of a business negotiation.
"This is a $400 million project, we're going to do our due diligence," he said.
Maloof did float the possibility of renovating the Kings' current Power Balance Pavilion as an alternative to going through with the new arena plan.
"Why put all the pressure on the people of Sacramento?" He asked. "Why not do it at Power Balance?"
Maloof also openly questioned whether the city of Sacramento had sufficient resources to go forward with the deal.
"I'm trying to figure out if Sacramento has the financial wherewithal," he said. "If they have the money, why are they asking AEG and us for pre-development costs. Where's the money?"
Throughout the news conference, he repeatedly expressed frustration with the city for not providing him with a timely response.
"How do we negotiate if we don't hear back from the city?" Maloof asked. "I'm going to ask the mayor, and have a right to ask, where are our term sheets? Why haven't you commented on our term sheets? Isn't that normal business practice?"
Maloof said he was not the only member of the ownership group that was frustrated.
"I've gotten pressure from my partners," he said. "They don't like the deal either."

That frustration, apparently, is what led him to air his grievances in front of a nationwide audience.

"I don't mind having a press conference and doing this in public," he said. "The public should know."

Meetings between the NBA, Johnson and the Maloofs are expected to continue on Friday in New York, where the NBA's Board of Governors are meeting.